5 Questions with MCSD Teacher of the Year: Vanessa Ellis '11,'19
March 27, 2023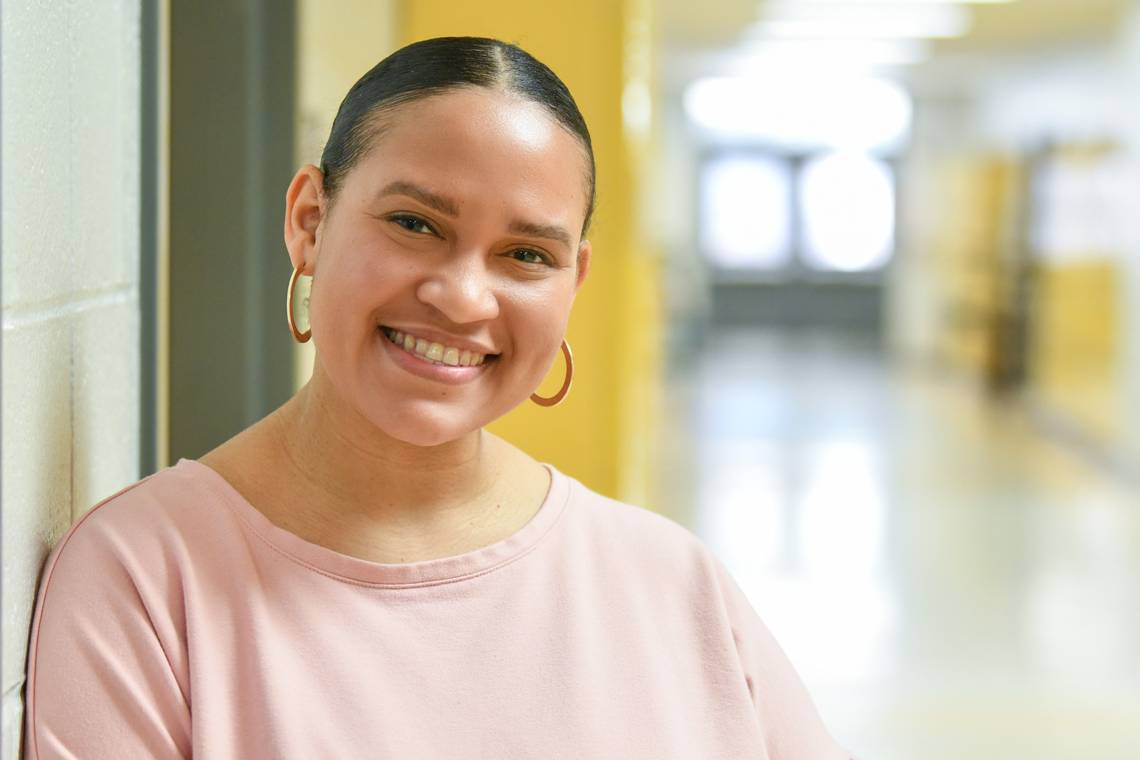 In May 2022, the Muscogee County School District named two-time Columbus State alumna Vanessa Ellis '11,'19 as its 2022 Teacher of the Year. In March 2023, Ellis was again recognized for her teaching excellence—this time as one of 10 finalists for Georgia's statewide Teacher of the Year honors. Ellis, an eighth grade social studies teacher at Veterans Memorial Middle School, holds bachelor's and master's degrees from CSU—both in history.
This Q&A originally appeared in the 2022 edition of the CLOCK TOWER: Magazine Edition.
Who or what inspired you to pursue a career in teaching?
"I always knew from a young age that I wanted to be a teacher. I would help my younger brothers with their homework. I was born in Jamaica, so over the summers, we would go there and I would work with children at Vacation Bible School. Growing up, my friends could always turn to me and say, 'Hey Vanessa, could you explain this?' And I just had this innate ability to break things down for people and have them understand it. So, all of these things just made me know that teaching was what I was born to do with my life.
Twenty years from now, what do you hope your former students say about your impact on their lives and professional careers?
"Someone once told me that the measure of a true educator is the impact that they have on students. Years from now, I would hope that my students would say, first and foremost, that I loved them. That I honored their humanity—that even though they were kids, I treated them with kindness, dignity and respect. It's very important to me that they feel that way. I would also hope that they would say I believed in them—that I showed up for them, and I cared for them, not only as students, but as individuals. I challenge them and I push them to discover their capacity to learn is far greater than they ever can imagine."
What role did the Ivey Center play in your CSU experience?
"Caroline Lawson Ivey was an Alabama author, and the foundation in her name administers grants for aspiring middle and secondary-level teachers. It funds the work of CSU's Cultural Approach framework. I was first introduced to that framework when I attended the Fundamentals week-long session in the summer of 2012. I had been teaching for only one year and had attended many professional developments as a novice teacher, but my week at CSU was unlike anything I experienced during the regular school year. Through all of these opportunities, I have gained invaluable strategies, networking and collaboration with teachers—many of whom I continue to work with to this day."
What has it been like being named as the district's 2020 Teacher of the Year?
"Gratitude. Intense, immense gratitude. I think my heart might explode from all of the love I've received. My face was actually sore for days from all the smiling, laughing and crying I did after being named teacher of the year. I am honored to represent the Muscogee County School District and the Muscogee Educational Excellence Foundation. I am also honored to represent the school district in which I was raised. To represent the district in this way has been the honor of a lifetime. This experience is forever branded on my heart. I hope I represent this district well and make everyone proud!"
Is there a CSU professor who was instrumental in your success as teacher?
"Dr. [Victor] Salazar, [the director of the Ivy Center for the Cultural Approach to History], is a huge part of my success as an educator. Not only did I learn the Cultural Approach to History from him, but Dr. Salazar helped shape me as a leader. He invited me to be a part of the Ivey Associates, an advisory council to the Ivey Center, on a volunteer basis. He also provided me opportunities to present my own Cultural Approach sessions during the summers and on Saturdays. He paired me with new teachers so I could help guide and mentor them as they learned this new framework. Dr. Salazar taught me to be a caring and empathetic educator. I try to emulate how he shows up for his students and colleagues. He is a quiet cheerleader, always there, willing to give, willing to help, willing to put you in connection with people to network and further your impact."

Media Contact:
Michael Tullier, APR, Executive Director of Strategic Communication + Marketing, 706.507.8729, mtullier@columbusstate.edu