Audio Tech Minor prepares students for field's evolving demands
March 13, 2023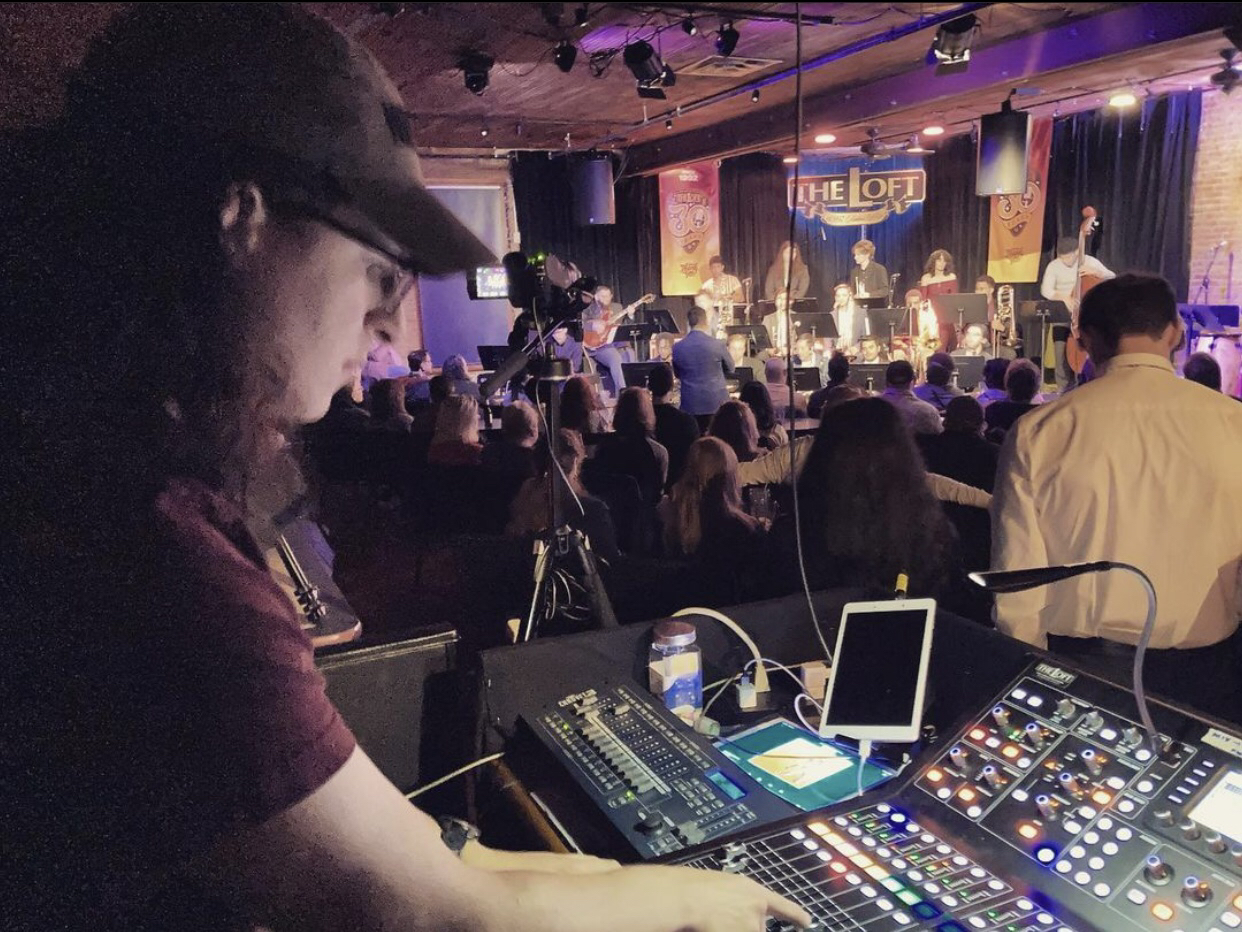 As digital communication technologies evolve with new innovations in producing, mixing and mastering sound, so has the demand for audio engineers. Columbus State University's Audio Technology Minor Program is preparing students for the growing workforce demands in this diverse and ever-changing field.
The 18-hour Audio Technology Minor Program is offered through CSU's Joyce and Henry Schwob School of Music. It provides students with classroom concepts and practical experiences with sound technology and engineering software through classes centered around mastering soundtracks, mixing sound in live performances, producing CDs and vinyls, creating sound effects for film, and more.
"The Audio Technology program has really enhanced my skills as an aspiring composer," commented freshman international student Anait Piloyan of Moscow, Russia, who is pairing the minor with her studies in Piano Performance. "I feel like these skills are really important and all musicians need to learn them. These technology skills are just as important as knowing music history and mastering our instrument. Over half of our life is reliant on technology with recording and social media outside of the academic world."
The program also offers a unique independent study through which students apply what they've learned through various technology projects. These include creating music videos for online content, building radios, and building instruments using sound technology. Students then complete the program with an internship during their final semester.
"One of the projects I had the most fun with was a recording project with a Weezer song," stated sophomore Bassoon Performance major Reeve Coble of Marietta, Georgia. "It was really fun because I got to experiment with mixing and mastering with my peers as a collaborative project. That was my first time in a professional studio setting too, which was very exciting!"
The program often partners with other university departments to further diversify students' experiences—including CSU's student-run WCUG-FM 88.5 radio station, its Pasaquan artistic environment, and its Department of Theater & Dance. In addition to this, the program has placed interns in a variety of professional settings, including The Loft, Troy Public Radio, Georgia Public Broadcasting, WIOL News, and the Springer Opera House—each of which has offered unique hands-on experience to students in the minor.
Alumni of this minor have gone on to careers with Georgia Public Broadcasting, NPR, local TV stations, and other entertainment production companies. Other alumni have pursued master's degrees in audio engineering and even teach at various universities across the country.
Dr. Matthew McCabe, an associate professor in the Schwob School of Music, has been leading the Audio Technology Minor Program for almost 15 years. During that time, one of the factors that has emphasized the importance of this industry was the COVID pandemic-era virtual collaboration and production demands placed on audio technology professionals.
"The pandemic has taught us that tech skills are invaluable," McCabe noted. "All musicians, even the most classically trained, need to have these skills in today's world—and learning on the fly or through an online tutorial video is not the way to acquire those."
While the pandemic may have led to an evolution of audio technology and workforce demands on the field, McCabe's influence on the program is equally noticeable by his students.
"Working with Dr. McCabe was a deciding factor for my participation in this program. I really appreciate how he makes the course challenging, but he still supports us whenever we need help," Coble commented.
McCabe's future goals for the minor include researching networked audio technologies to be able to implement that knowledge and its application within the program curriculum. He also looks forward to expanding the minor to allow more students outside of those majoring in music to participate.
More information about the Audio Technology Minor is available through the university's online academic catalog.
Riley Smoot, a Spring 2023 intern in the Office of Strategic Communication + Marketing contributed this article.

Media contact:
Michael Tullier, APR, Executive Director of Strategic Communication + Marketing, 706.507.8729, mtullier@columbusstate.edu