Baseball players prove graduation can be a balancing act for collegiate student-athletes
May 17, 2022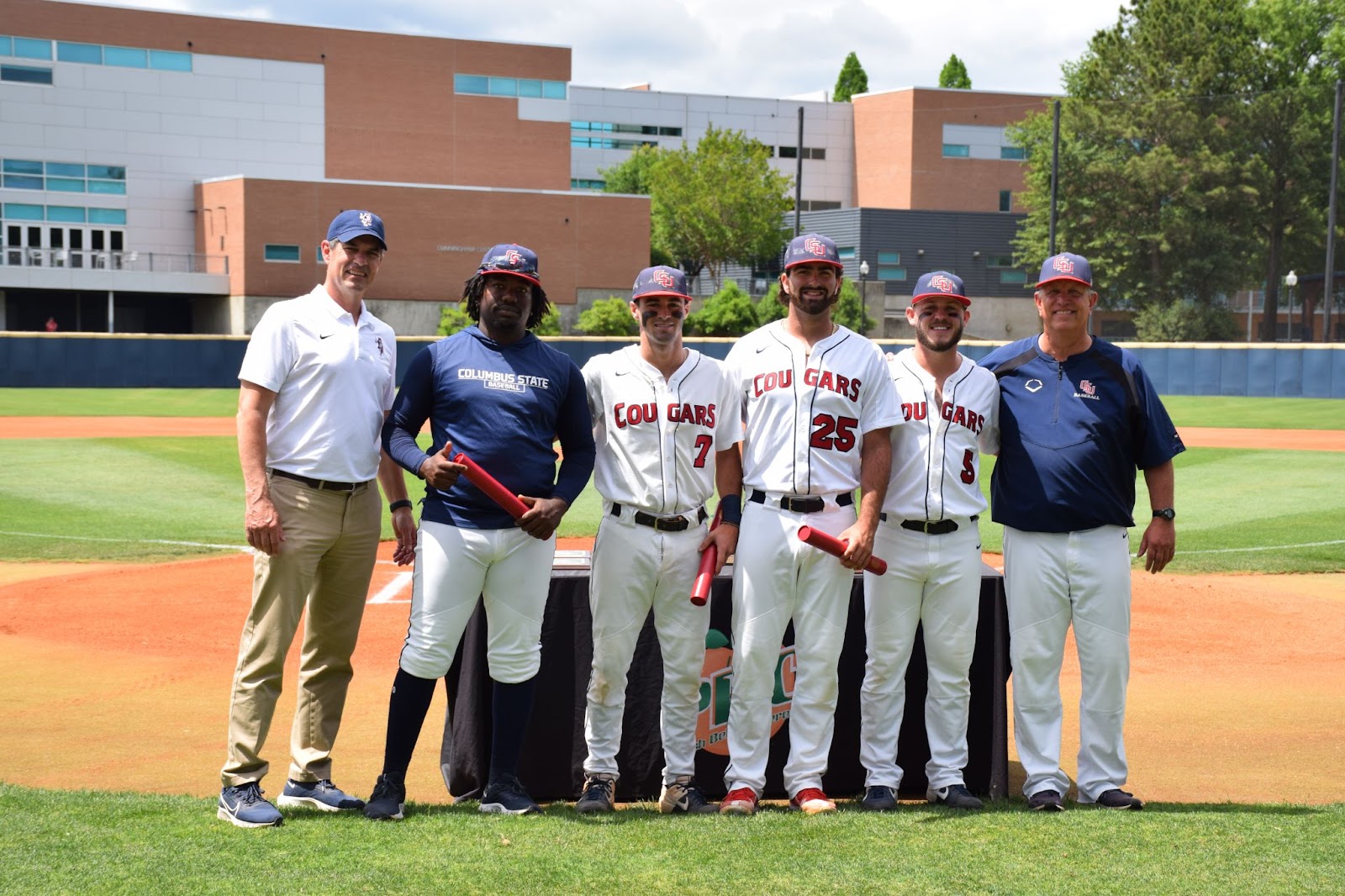 Among Columbus State University's 941 spring graduates were 33 student-athletes and graduate assistants representing 11 of the university's 14 NCAA Division II sports teams.
For most, their seasons concluded weeks—if not months—ago. For four members of the CSU baseball team, their seasons were literally occurring around graduation events just across the street from the Lumpkin Center ceremonies as the team vied for the Peach Belt Conference Championship at CSU's Burger King Stadium.
As CSU's graduates processed in as part of the university's five graduation ceremonies, four of the graduates found themselves in the Ragsdale Field dugout. They included pitcher Jamie Boatright (who completed a bachelor's in criminal justice), graduate assistant coach Perez Knowles (who completed a master's in exercise science), and 3rd baseman David Meadows and center fielder Hunter Woodall (who both earned bachelor's of business administration degrees in marketing).
Play ball? Walk at graduation? Head baseball coach Greg Appleton summed up the tough choice going through these players' heads as graduation, and a potential conference championship title loomed.
"For these guys, school has been very important with graduation as the goal," Appleton explained. "However, baseball is just as important because it is one of the main reasons they chose CSU."
As the No. 1 seed in the four-team bracket, the Cougars' game times conflicted with the specific college commencement ceremony in which each was scheduled to participate: The College of Letters and Sciences for Boatright; the College of Education and Health Professions for Knowles; and the Turner College of Business for Meadows and Woodall.
The four were given the opportunity to receive their degrees as part of the College of the Arts' 10 a.m. ceremony on Saturday, May 14—a time that would not conflict with their ability to play. Ultimately, Boatright and Woodall chose to participate in graduation, thereby offering them the best of both worlds.
One of the starting pitchers for CSU, Boatright was relieved that he could participate in both. "It was awesome being able to walk at graduation and play in playoffs," Boatright noted. "I had family in town who really wanted to see me walk, but I was not going to miss baseball for it because playing at this time in the season is so much fun and the games mean so much more."
For Woodall, he did not want to miss the opportunity to partake in graduation festivities.
"Being able to walk across that stage at graduation and receive my diploma was a great feeling to show my family that the sacrifices they made for me to obtain an education didn't go to waste," mentioned Woodall. "I can't thank Jimbo Davis, my coaching staff, and CSU enough for making the changes necessary so that I could walk, it's an experience that I will never forget."
According to Athletics Director Todd Reeser, student-athletes put in an abundance of academic hours outside of the classroom and practice studying and getting help from teammates, professors and tutors. For many, the average day begins as early as 6 a.m. and stretches beyond 9 p.m. as student-athletes bounce between practices, classes, workouts, study halls, and games—leaving little time for the social aspects of college life.
With their status as a student coming first, NCAA student-athletes must maintain a 2.0 grade point average to be eligible for competition. Managing the school-to-practice and game schedule sometimes means doing homework on bus rides to and from sporting events, taking tests outside of the assigned class time and meeting with professors outside of their assigned office hours.
Even though the minimum GPA must be met, Reeser noted that student-athletes and graduate assistants ranked 20% higher than the rest of this semester's graduating class.
Eventually, the Cougars played into Sunday as part of the double-elimination tournament. They placed second in the 2022 PBC Championship and qualified for the 2022 NCAA Division II Southeast Regionals. The team travels to Wingate, North Carolina to play Belmont Abbey College in the first round of the tournament on Thursday, May 20.
Visit www.csucougars.com for team updates and tournament schedules.