Championships, PBC Commissioner's Cup part of the well-rounded CSU student-athlete experience
June 23, 2022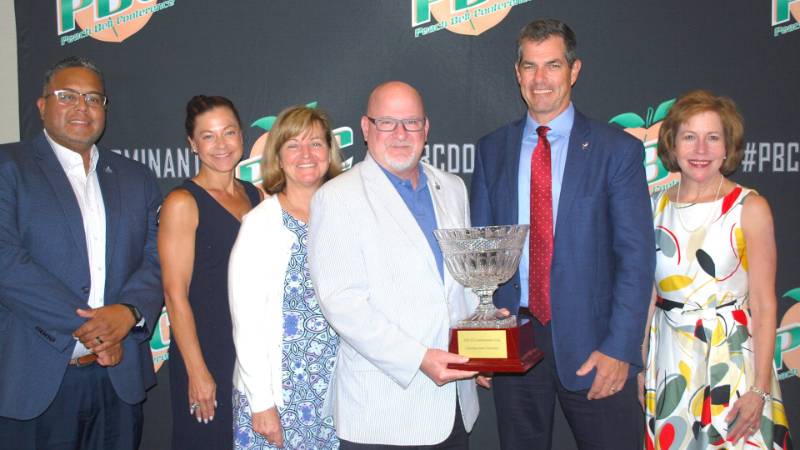 When you're a college-level student-athlete, three goals are understood: make good grades, win games and claim championships. Sometimes, the order of those change, but the message is clear—at Columbus State University, whether on the fields and courts where they play, or in the classrooms where they learn, student-athletes always strive for excellence.
This academic year, CSU student-athletes proved to the Peach Belt Conference that they are the best, as evidenced by receiving the 2021-22 PBC Commissioner's Cup. This is the seventh time the Cougars have captured the award—setting a new conference record.
"The Commissioner's Cup signifies the outstanding year our athletic teams had in representing Columbus State University in the Peach Belt Conference, as well as regionally and nationally," said Director of Athletics Todd Reeser. "I congratulate our student-athletes who wear the Cougar uniform with pride, while representing the university in a very positive manner."
Reeser underscored that while the PBC Commissioner's Cup is just one element of the victories CSU Athletics celebrate, they also celebrate that more than half of Columbus State's 250 student-athletes earned a 3.0 or higher grade point average during the spring 2022 semester.
The Peach Belt Conference's Teams of Academic Distinction celebrate individual student-athletes for their success in the classroom. Each Team of Academic Distinction is comprised of student-athletes in the respective sport who achieved at least a 3.30 GPA in addition to meeting other athletics requirements. These 2021-22 Teams of Academic Distinction included 56 Columbus State student-athletes: 11 women's soccer players, one men's cross country runner and one women's cross country runner, three women's basketball players, nine men's and women's tennis players, five men's and women's golfers, six softball players, six baseball players, and 13 track and field athletes.
"Our athletics program is about winning, and our coaches identify, recruit and develop student-athletes who are highly competitive, both athletically and academically," Reeser said. "We are passionate about ensuring our student-atheletes achieve their academic and career goals as well as their athletics ones."
Senior All-American women's soccer player Carley Canzoneri, who has maintained a 4.0 GPA during her studies, said that being a student-athlete at CSU—including the challenge of balancing school with practices, games and winning championships—has been worth it.
"Winning the PBC Commissioner's Cup means so much to me," said Canzoneri. "It justifies all the hard work my team and coaches put in throughout the whole year, and it's rewarding to see how successful our whole athletic program is because we all know the hard work we put day in and day out."
The impact of being a championship-level athletic department is invaluable to the overall spirit and culture of a university like Columbus State. Not only do student-athletes at CSU strive for excellence in the classroom and on the field of competition to best represent the university, but coaches do too. Coaches at Columbus State spend countless hours working in the community to garner support for their teams.
"CSU Athletics has partnered with so many athletic programs locally. It honestly is a win-win for all the young athletes involved," said Head Women's Soccer Coach Jay Entlich. "Our student-athletes and coaches have worked tirelessly in the community coaching youth children of all ages. On the back end, so many of these same young athletes are returning the favor by attending CSU and helping us win championships."
CSU student-athletes generate a greater community at the university through spirit at games. Men's basketball Head Coach Robert Moore explained that the hometown crowd—fellow student-athletes, other CSU students and local residents—factors heavily into the success of Columbus State's athletics program.
"It's a wonderful experience for my guys to see their peers and others from the community cheering us on in the Lumpkin Center. It gives us a home-court advantage, and makes our guys eager to support our other CSU teams at their games and matches," Moore said.
CSU Athletics hosts a "Sea of Red" game for each team during their specific seasons. This designated game is set aside for all student-athletes, as well as the entire student body, to attend wearing red. Together, the red-out at these games creates an intimidating home-field advantage at Cougar games. Canzoneri noted that these games and similar displays of school spirit, are critical to CSU's success on the court and on the field.
"I enjoy seeing all of our teams be successful, and also seeing friends win awards and championships. It really feels like we're all winning." said Canzoneri.
"The fan support is equally as impressive as so many local supporters have come out and cheered on the Cougars," Entlich added. "This past year was a special year for us here at CSU with so many teams having success at the same time."
Student-athletes are also involved in the Student-Athlete Advisory Committee (SAAC), comprised of student-athletes from CSU's 13 NCAA sanctioned sports and its spirit squads. Through their involvement, they hone valuable leadership skills while building stronger school spirit and representing the university in the community as part of events and programs focusing on service, health promotion, social responsibility and greater awareness of educational opportunities for area youth.
"Our student-athletes are outstanding ambassadors for Columbus State, and through their work on campus and in the community, they truly model our core value of servant leadership," said CSU President Dr. Chris Markwood. "Their success in a Cougar uniform and in the classroom, as well as their service to the campus and the community, place them in a unique position to inspire area youth who are our future students and student-athletes."
One of the many ways CSU Athletics gains local support is through its annual Day of Service event at the beginning of each fall semester. This event unites CSU students, faculty and staff as they give back to the Columbus and Chattahoochee Valley area. It also helps the CSU community connect with individuals all across the region through partnerships with over 30 nonprofit organizations. In the past, student-athletes have volunteered at Feeding the Valley, the Columbus Habitat for Humanity and the National Infantry Museum.
"In my opinion, student-athletes at Columbus State are among our most well-rounded graduates," Reeser said. "As they compete on the university's behalf, they benefit from the close-knit communities and special mentoring that only comes from being part of an athletics family. It's one of the things that, for these future leaders, makes the Columbus State experience a unique one."