Columbus State crowns Sharpsburg's Aaliyah Phillips as 24th Miss CSU
February 22, 2023
On Saturday, Feb. 20, Columbus State University crowned Aaliyah Phillips of Sharpsburg, Georgia, as its 24th Miss CSU. The junior majoring in elementary education will go on this summer to represent the university in the Miss Georgia Scholarship Pageant, which is part of the Miss America Organization.
Phillips was one of four contestants in this year's pageant. As Miss CSU, she receives a $1,500 tuition scholarship and a $500 bookstore scholarship. Other contestants included:
First runner-up Chalyse Workman, a junior from Stone Mountain, Georgia, pursuing a bachelor's degree in elementary education. She receives a $300 tuition scholarship and a $200 bookstore scholarship.
Second runner-up Emma Mitchell, a freshman from Thomasville, Georgia, pursuing a degree in elementary education. She receives a $200 tuition scholarship and a $100 bookstore scholarship.
Third runner-up Peyton Avery, a senior from Flowery Branch, Georgia, pursuing a bachelor's degree in earth and space science. She receives a $100 bookstore scholarship.
Other awards included the Katelyn Pawlowski Spirit of CSU Award, named for two-time alumna and Miss CSU 2013 Katelyn Pawlowski Miller, and bestowed upon Phillips for best embodying the university's values among the pageant's contestants. The judges also presented the Hayley Henderson Community Service Award, named for two-time alumna and Miss CSU 2011 Hayley Henderson Tillery, and bestowed upon Avery for best exemplifying a service mindset.
Phillips, the daughter of Leon and Shivaun Phillips, is a 2020 graduate of East Coweta High School in Sharpsburg. Along with her studies at Columbus State, she has served as a Presidential Envoy and member of the Honors College Student Advisory Council since 2021. In 2022, she served as a Student Government Association senator representing the College of Education and Health Professions.
With the exception of participating in the Miss Collegiate 100 of CSU Pageant last year, in which she won the title of Miss Black White, the pageant world is a new one for Phillips.
"I am so excited to represent one of the best schools in Georgia–Columbus State University," she said of her new role as Miss CSU. "I am excited to begin my reign and to start performing the work associated with my social impact initiatives. I am striving to be an impactful, intentional, and influential leader."
The priviledge of representing CSU was among the highlights of retiring Miss CSU Tori Svenson's reign.
"Being able to represent my university as Miss CSU has been a chance of a lifetime," the 2022 Miss CSU and current nursing major said. "When I was 7 I became the first Petite Miss CSU, so being Miss CSU has come full circle for me."
Svenson recalled a recent opportunity to represent CSU as a judge for an elementary school pageant.
"The poise and grace that those little girls showed was amazing," she recalled. "It made me feel like I was 7 again on the stage for the first time."
As Miss CSU, Phillips hopes to bring greater focus to literacy equality for all students through a platform she has defined as SPREAD–Spreading Literacy Through Reading.
"Through my social impact initiative SPREAD—Spreading Literacy Through Reading—I advocate for literacy equality for all students regardless of their zip code," she explained. "SPREAD is a three-pillar approach focusing on advocacy, education and mentorship. As Miss CSU, I plan to travel to all 32 elementary schools in Muscogee County to promote literacy, while focusing on building relationships with community stakeholders to secure valuable resources."
Phillips indicated that the challenges of graduating from high school and transitioning to her college studies during the height of the COVID pandemic influenced her talent performance.
"During the competition, I performed the classic ballad, 'One Moment in Time.' I selected this song because it is a timeless anthem of believing in oneself against all odds. As a 2020 high school graduate, I believe the lyrics define my journey to college and to this point," she said.
In addition to the talent phase, the pageant program also included judged contestant interviews, on-stage questioning and evening wear phases that contributed to each contestant's score. Judges for the Feb. 20 Miss CSU Pageant included:
Victoria Buchanan, a two-time Columbus State alumna who currently serves as the university's orientation and parent and family coordinator, in addition to her roles advising CSU's chapter of the Delta Zeta sorority and Student Government Association.
Dr. William E. Fry, a 1975 CSU graduate who conducted high school, university, statewide and regional orchestras—including the Muscogee County School District and Columbus State University.
Cierra Jackson, a former Miss Columbus, Georgia, who has held multiple titles in the Miss America Organization. As the co-owner of the Columbus-based Cierra's Corner, an evening gown and formal wear boutique, she has helped prepare aspiring beauty queens prepare to shine on the stage.
Johnnae Roberts, a DEI advocate who currently leads Columbus State's Diversity Programs and Services.
Torrez Wilson, the founding executive director of the Miss Georgia Gwinnett College Scholarship Pageant and former executive director and producer for the Miss Fulton County Scholarship Program. He has judged numerous competitions across the state and has assisted many young ladies in preparing for the Miss Georgia and Miss America competitions.
"Since the first Miss CSU was crowned in 1999, the Miss CSU Scholarship Program has provided opportunities for young women to expand their quest for knowledge and acquire skills to better equip them for future opportunities," said William Keen, who coordinates the program on behalf of Columbus State's Division of Student Affairs. "Reigning Miss CSUs have developed their leadership skills and developed a greater sense of personal, professional and community awareness as they represent the student body and university."
The candidate selected for the responsibility of serving as Miss CSU must be available to serve as the university's official ambassador during her year of service and be willing to make as many appearances, parades and events as possible. For previous Miss CSUs, this has included meeting and interacting with city and state officials, community leaders, and caring and giving volunteers who serve the Columbus community in a diligent and dedicated manner.
"The most rewarding part of my experience so far has been meeting and networking with other confident like-minded young female leaders," the 2023 Miss CSU said. "I look forward to serving the student body and upholding Columbus State's core values of servant leadership inclusion, and excellence."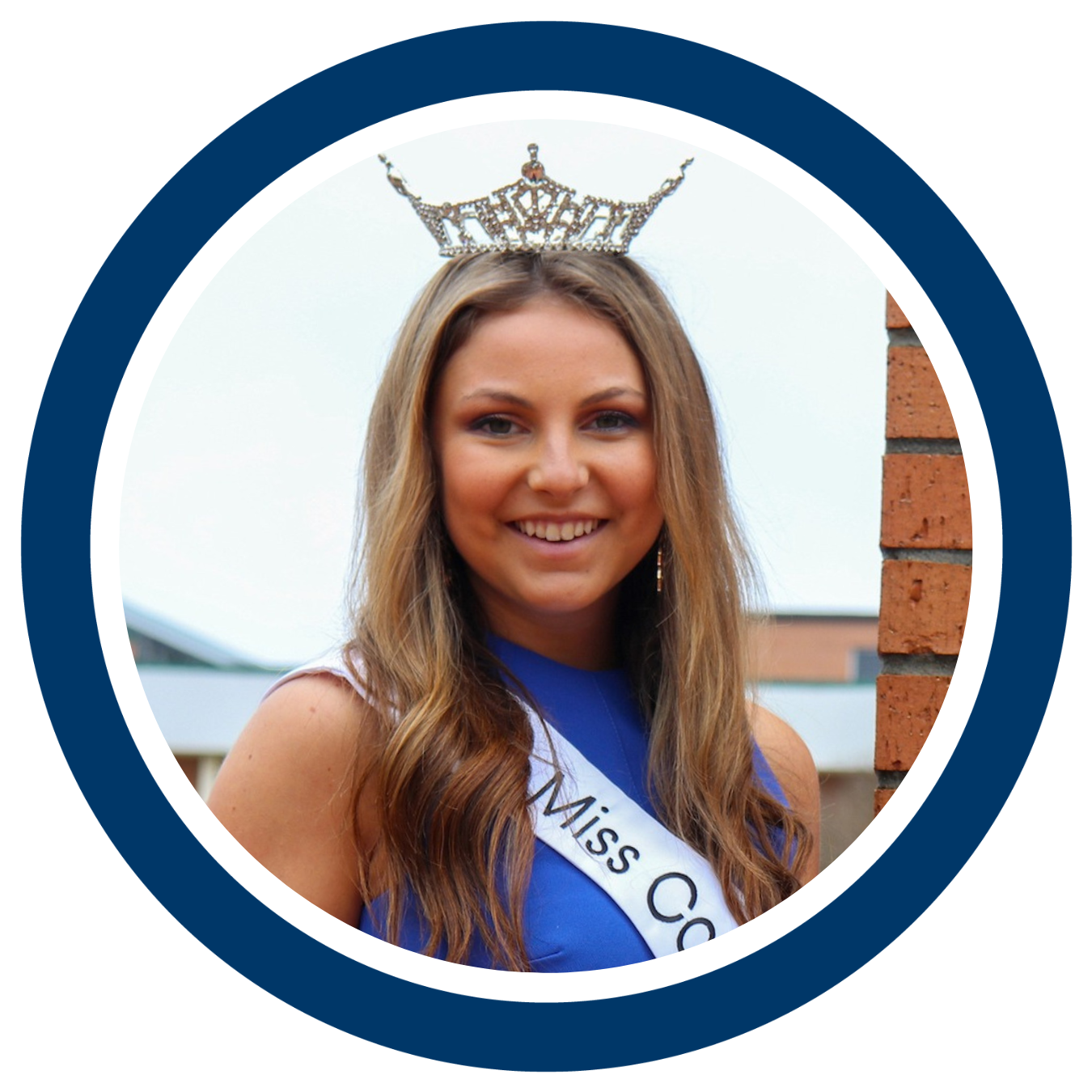 Svenson (pictured) encouraged Phillips to soak up all those moments of being Miss CSU, as well as to lean on the confidence of knowing she earned her crown.
"Be yourself all the way through because the judges saw something in you—your personality, your grace—so don't change," she advised.
And if you feel weary—I know I did at times—rely on your friends and family's support to guide you through."
Participation in the Miss CSU program is open to any female student currently enrolled at Columbus State University. She must have completed at least one entire semester of courses, have maintained a 2.5 or higher GPA, be currently single and never married, and be a U.S. citizen—all of which comprise the requirements to participate in the Miss Georgia Scholarship Pageant if selected as Miss CSU.
Furthermore, if the winner is a graduating senior or in her final year of graduate school, she must be willing to continue representing CSU on campus and in the community for the full year of her service.
Like past Miss CSUs, Phillips will be Columbus State's official representative to the Miss Georgia Scholarship Pageant and, if successful there, to the Miss America pageant. The Miss Georgia Scholarship Pageant will take place this summer in Columbus' RiverCenter for the Performing Arts.
"I am looking forward to representing Columbus State on a larger stage and to meeting and learning from other delegates from around the state," Phillips said of her upcoming pageant journey as Miss CSU.
For more information about Miss CSU or to request a Miss CSU appearance, visit the Miss CSU website.
Media contact:
William Keen, Division of Student Affairs, 706.507.8013, keen_william@columbusstate.edu