Columbus State to celebrate Cody the Cougar's birthday at April 12 community-wide bash
March 27, 2023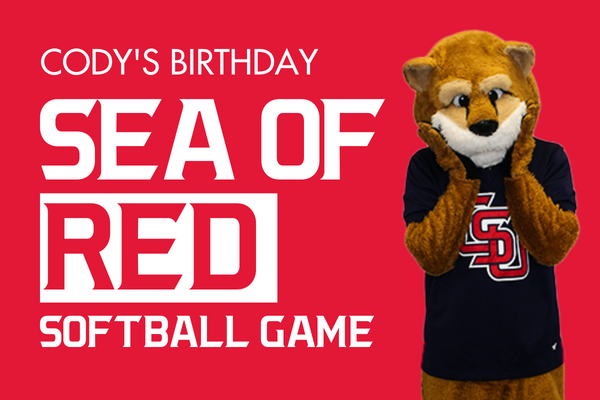 He might be turning 53 this year, but you'd never know it from Cody the Cougar's antics at Columbus State University sporting events and his appearances throughout the Chattahoochee Valley community. In honor of Cody's birthday, Columbus State is throwing a community-wide, softball-themed birthday bash for its beloved cougar mascot on Wednesday, April 12.
Well-wishers can join the celebration and while enjoying free admission to the CSU softball doubleheader as they take on the Georgia Southwestern Hurricanes. Game times at Cougar Field on its Main Campus are 3 p.m. and 5:30 p.m. Since the games are softball's "Sea of Red" game, fans are encouraged to wear red.
"Of course, we'll be singing 'Happy Birthday' to Cody during pauses in the game, and we'll have other in-game activities for everyone to enjoy," noted Katie Evans, CSU's director of alumni engagement and executive director of the CSU Alumni Association.
In addition to on-site concessions, the CSU Alumni Association will provide free cupcakes and Icey Girl snow cones while supplies last. Inflatable activities will be available to children in attendance. Representatives from the Office of Admissions will be on-hand to answer questions about applying to and enrolling at CSU.
"Cody is going to be available to give all the hugs he can to his adoring fans," said Cheer Coach Jimbo Davis. "For him, that's the perfect way to celebrate any birthday."
The celebration is a joint effort by CSU Athletics and the university's Office of Alumni Engagement, Office of Admissions, Office of Student Life & Development, and Residence Life.
Cody the Cougar dates to 1970, when on April 17 the then-Columbus College student body voted the cougar as the university's new official mascot. The university's student newspaper, then called "The Saber," reported on May 6, 1970, that students chose "Cougars" over "Titans" in a two-to-one campus-wide vote.
Cody the Cougar is officially part of the university's Cheer program. To request a mascot appearance or for more information, contact Cheer Coach Jimbo Davis.

Media contacts: