Columbus State's Markwood among 'Georgia Trend's' list of '100 Most Influential Georgians'
January 4, 2022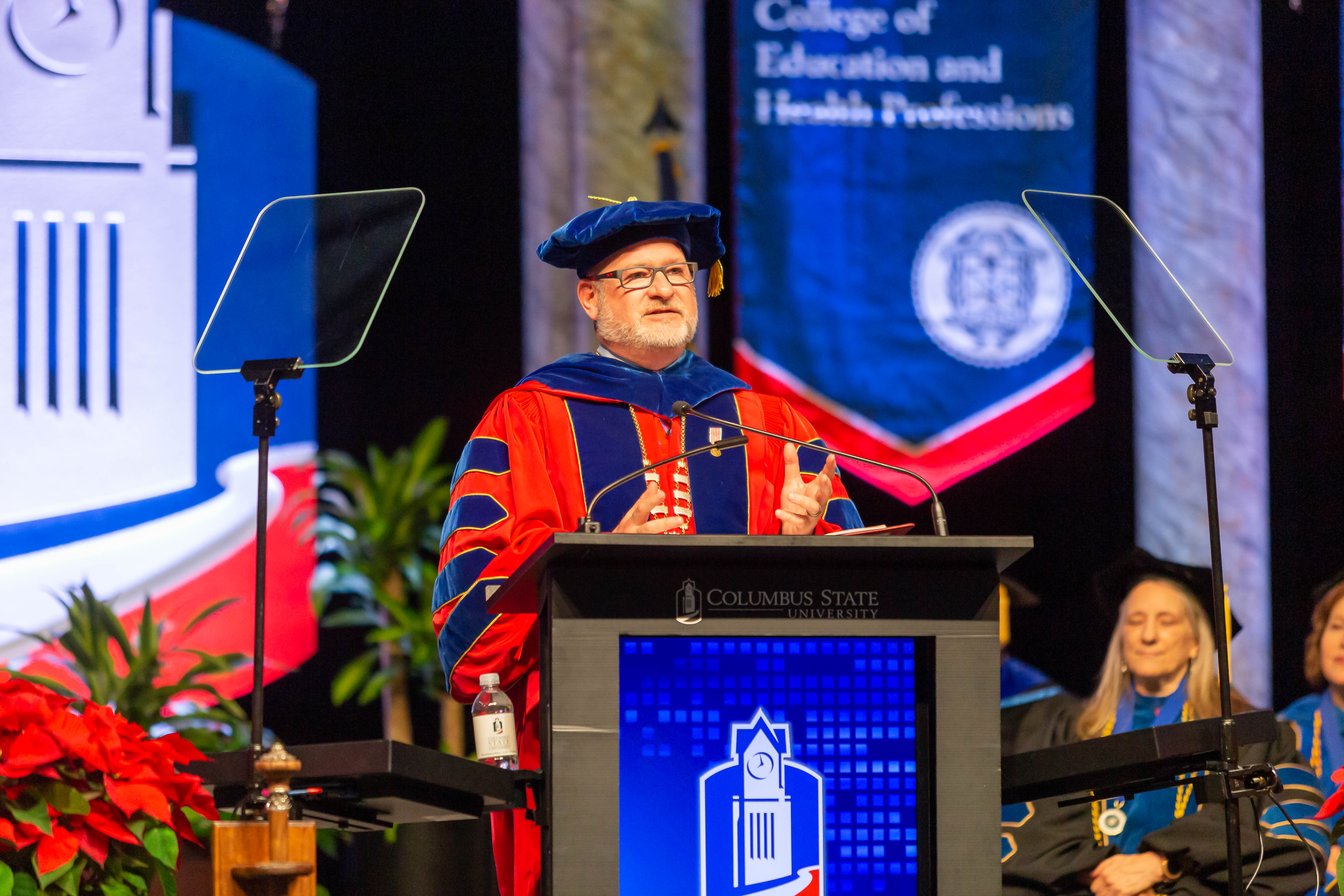 Columbus State University President Chris Markwood has been named to Georgia Trend magazine's "100 Most Influential Georgians" list for the sixth time since he began his presidency in 2015. Now in its 24th year, the annual listing recognizes Georgians who are successful in their careers, wield remarkable power and influence, and have contributed to making life better for Georgians.
In the magazine's January 2022 issue, Georgia Trend recognized CSU's expanding footprint under Markwood's leadership. During a year marked by the continued challenges of COVID-19, the university unveiled its new Robotics Engineering Lab, which hosts the state's only comprehensive bachelor's and master's degree program in robotics engineering. It also celebrated and revealed its TSYS Center for Cybersecurity, a partnership that yielded new undergraduate, graduate and nexus academic offerings in the field.
Under Markwood's leadership during 2021, Columbus State broadened its focus on scholarly research by formally instituting a College of Research and Graduate Studies. It enhanced the resources available through the Simon Schwob Memorial Library and added a new Welcome Center to its RiverPark Campus, designed to introduce future Cougars to the diverse academic and co-curricular opportunities available on both campuses. With the support of the Miracle Riders, the university has its sights set on upgrades to its pediatric nursing program through the launch of a multi-year, $1 million fundraising effort.
Under Markwood's leadership, Columbus State continues to demonstrate a "communiversity" relationship with the Chattahoochee Valley through its many partnerships that benefit education, cultural arts, tourism and overall quality of life. Recent studies revealed the direct impact of university operations alone produced a $272 million economic impact on the region and generated more than 2,800 jobs.
"I am honored by this recognition and proud of Columbus State's statewide influence on education, tourism, and economic and workforce development," Markwood said. "Our success is due in large part to our creative and innovative students, professionals, alumni and partners who represent Columbus State's present and future."
Markwood appears on the list alongside other influential Columbusites including Dan Amos, chair and CEO of Aflac, and Jerald Mitchell, president of the Greater Columbus, Georgia Chamber of Commerce.
Markwood was among the five University System of Georgia presidents selected this year and 13 leaders with higher education connections recognized.
The publication also included the list of "2022 Notable Georgians" who have made a significant impact on residents' lives. That list includes three additional higher education leaders.
For more information on Georgia Trend's "100 Most Influential Georgians of 2022," visit https://www.georgiatrend.com/2020/12/31/2021-100-most-influential-georgians/.