Columbus State's Williams named to the 2022 AASCU Millennium Leadership Initiative
May 18, 2022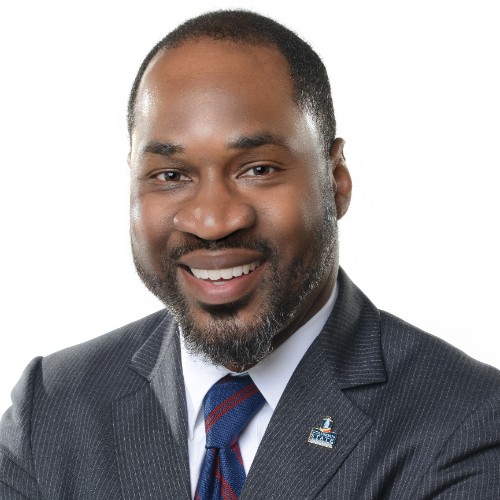 Columbus State University's chief of staff, Dr. Ron Williams, is one of 22 senior-level higher education professionals named by the American Association of State Colleges and Universities to its 2022 Millennium Leadership Initiative (MLI).

Williams joined Columbus State in July 2019 as associate provost and associate vice president for faculty affairs and academic innovation. In December 2020, he was named the university's chief of staff—a role through which he provides leadership to the president's Executive Leadership Team, helps prioritize CSU's strategic initiatives, policy matters and long-range goals, and represents the president in a variety of internal and community roles. He also directly oversees the Leadership Institute and the Office of Strategic Communication + Marketing, as well as advises other administrators responsible for maintaining relationships with university stakeholder groups.

Prior to Columbus State, his 20-plus-year higher education career has included academic and administrative appointments at Lane College, Tennessee State University, the Tennessee Higher Education Commission, and Western Illinois University. Williams holds a bachelor's degree in business administration/accounting from Lane College, and both a master's and doctoral degree in higher education administration from Tennessee State University.

"This year will bring an enhanced program that will inform and empower MLI cohorts to be better, more egalitarian leaders, attuned to the imperatives of a full promise democracy," said John S. Wilson Jr., MLI's executive director. "We believe this will only enhance AASCU's annual success in shaping ideal leaders for America's college and university campuses."

MLI is a premier leadership development program that provides individuals traditionally underrepresented in the highest ranks of postsecondary education with the opportunity to develop skills, gain a philosophical overview and build the network and knowledge needed to advance to the presidency. The 2022 MLI will serve as a pilot year to bolster the qualitative dimension of the curriculum.

The AASCU is a Washington, D.C.-based higher education association of nearly 400 public colleges, universities and systems—including Columbus State and 16 other University System of Georgia institutions. Members of the organization share a learning and teaching-centered culture, a historic commitment to underserved student populations and a dedication to research and creativity that advances their regions' economic progress and cultural development.

For more information, visit www.aascu.org.