CSU Students helping to close the gender gap in STEM studies
November 21, 2022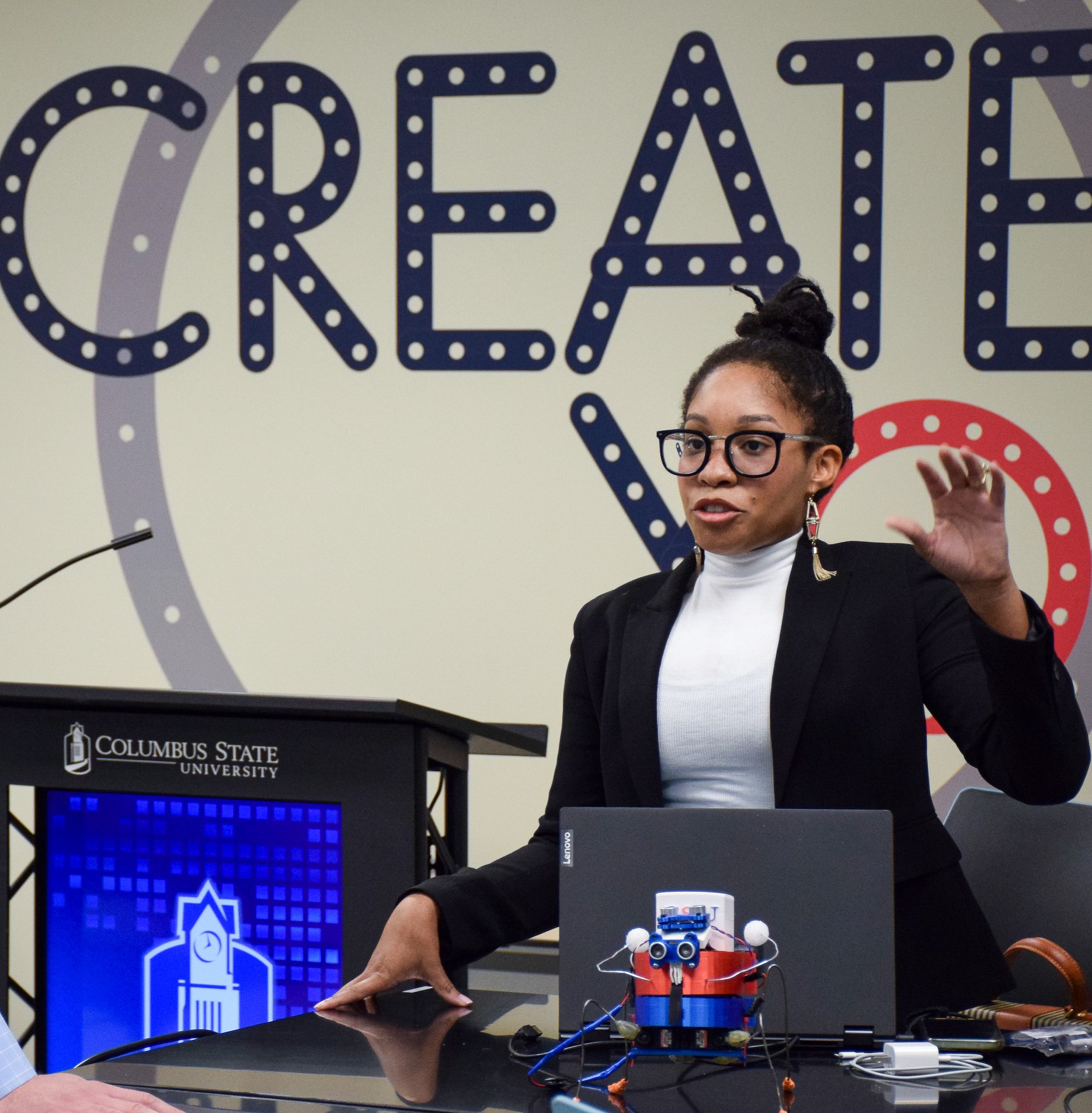 Through rigorous courses and hands-on experiences, the students enrolled in the robotics program at Columbus State University are excelling in all domains of mechanical engineering and computer software development. With individual reasons for entering this field, each student has high expectations for their professional future and strives to help people through technology.
Many students in the program chose CSU for the degrees available through the robotics program and the professors that teach and support each student in their STEM (science, technology, engineering and math) experience. The reason graduate student, Shokoufeh Davarzeni, chose CSU was due to the expertise and credibility of the professors in the program. "I think this is a great opportunity for us and allows us to do our research according to our interests," stated Davarzeni. Each student's initial interest was piqued through various experiences which now motivate and impact their choice of career.
Sophomore student Cynthia Lopez-Jordan has chosen to pursue the medical domain in robotics after having family members undergo surgery completed by robots. "The reason I am thinking of the medical field is that I know my parents have had surgeries done with robotics and I think that's cool and I just want to experiment with those and see how they are made and see how the MRI machines work or even go into prosthetics."
Rehmana Younis is in her second year in the robotics master program and admires robotics due to the many career opportunities able to be achieved after graduation. "As it is a diverse field and it allows you to choose from different career paths. I am more interested in working as a software engineer," stated Younis.
Fellow sophomore classmate, Isabella Valera is pursuing her degree in robotics and digital software design to assist a family member who suffered an eye loss. "I want to help as many people as I can," stated Valera when asked about her goals after receiving her robotics degree. Her interest in robotics was peeked at a young age and has continued to expand over the years. "So what interested me about robotics is the designing part of it. I love Auto-cat, I love working with digital software and 3D modeling."
Despite Robotics being a male-dominated field, the women in STEM at Columbus State University are not viewing this fact as daunting."I can work within this field and show my talents to open doors for other women, not only for my country but women everywhere," stated graduate student Ismail "Saira" Gillam. She has already received a degree in software design and is currently furthering her education through robotics in the master's program to become an example for all women.
Skyler Dexter, a senior, has already gotten a head start on her career. Dexter is anticipating promotion upon receiving her degree in robotics. "As of right now, I work at Pratt and Whitney as a maintenance technician and based on my knowledge, after graduation, I should be moving into an engineering position there, either as a control or automation engineer."
This semester, the robotics program is eagerly awaiting the first three females to graduate with a master's degree in robotics. For more information about the robotics program at CSU, visit www.columbusstate.edu/letters-and-sciences/robotics/.