Departmental name change solidifies the emerging role of dance studies at Columbus State
July 27, 2022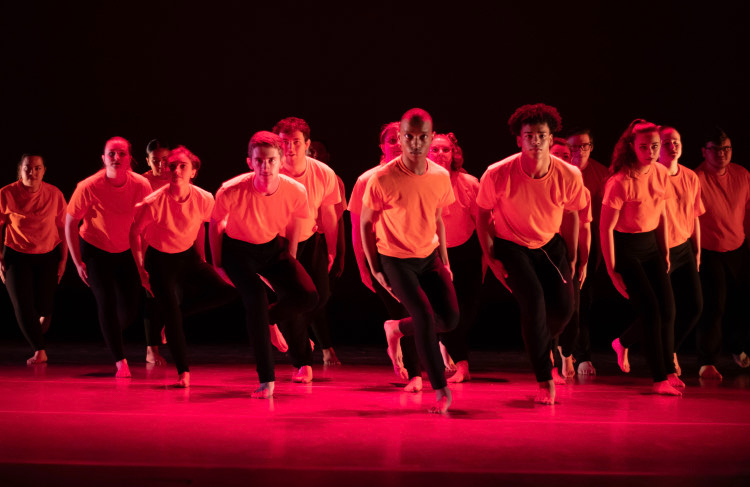 Columbus State University recently changed the name of its Department of Theatre to the Department of Theatre and Dance—emphasizing the role its growing Dance Minor Program plays in departmental programming and its consistent enrollment growth in recent years.
This name change might seem small to some, but Dr. Wanda Ebright, dean of the College of Arts, explained that embracing the role of dance in the mission of the university and the department opens up countless opportunities for CSU and the community.
"Dance can be classical or contemporary," said Ebright. "It can be accompanied by music, silence, or spoken word. It can be a ritual, such as a school dance, a prom, or part of a wedding reception. It has been highly controversial, from the courts of Louis XIV to the swiveling hips of Elvis Presley or coeds touching in partnered social dances. It's even social commentary, whether onstage or on social media such as TikTok. I'm excited for our students and Columbus to see all that dance has to offer."
Established in 2016, the Dance Minor Program has become one of Columbus State's fastest-growing curriculums. Beginning with 13 minors and 35 students in Fall 2016, enrollment has soared to 56 minors and 96 students in just six years—an increase of over 330% in the number of dance minors since the program's inception.
All CSU students can study in the Dance Minor Program regardless of their chosen major. It is a 15-credit-hour program of study including courses in dance technique, dance history, dance choreography/composition, and performance. Dance technique classes include various levels of ballet and modern dance.
Dr. Larry Dooley, chair of the Department of Theatre and Dance, noted that the department's faculty unanimously recommended the name change to the university's administration. He cited the Dance Minor Program's increasing integration with the theatre studies curriculum and other departmental programs, performances and community outreach.
"Not only does having a dance program—with a dedicated faculty member in that role—benefit our production program, but it has had a positive impact on the training of theatre students," said Dooley. "Beyond that, having a dance minor track has attracted students from across the university and, we believe, increases student engagement, which is a key factor in recruitment and retention."
Incorporating dance into the department's official title also serves as an affirmation that the dance program is expected to grow in enrollment, integration and prominence. The university is looking at ways to expand the Dance program.
"Community patrons and supporters have given generously to this program, which has enabled us to offer scholarships to dance minor students," stated Dooley. "Their generosity has also funded student and faculty travel to regional dance conferences. Those funds have helped us hire qualified part-time instructors to round out our dance course offerings."
The scholarships Dooley mentioned are the result of robust, year-round fundraising through two signature Dance Minor Program events: Spring Swing in the spring and the Broadway Ball in the fall. Together, these events fund around $10,000 in scholarships that support as many as 15 CSU students each year. This year's recipients included domestic and international students majoring in biology, business, communication, kinesiology, marketing, music education, nursing, political science—and, of course, theatre.
"Our alumni, the community and the Dance Minor Advisory Board have been so supportive of our dance students," said Amy Mutarelli Taylor, assistant professor of dance and director of CSU's Dance Minor Program. "There is a bright future ahead for dance at Columbus State thanks to their invaluable contributions of time, talent and resources to our program."
"Students who study in areas outside the theatre and who participate in the dance minor, in my opinion, are far more likely to feel engaged with campus life and learning," concluded Dooley.
For more information about the Dance Minor Program, visit columbusstate.edu/theatre/danceand follow the department on Instagram @columbusstateuniversitydance.