Markwood receives award honoring partnership between CSU, Fort Benning
June 29, 2021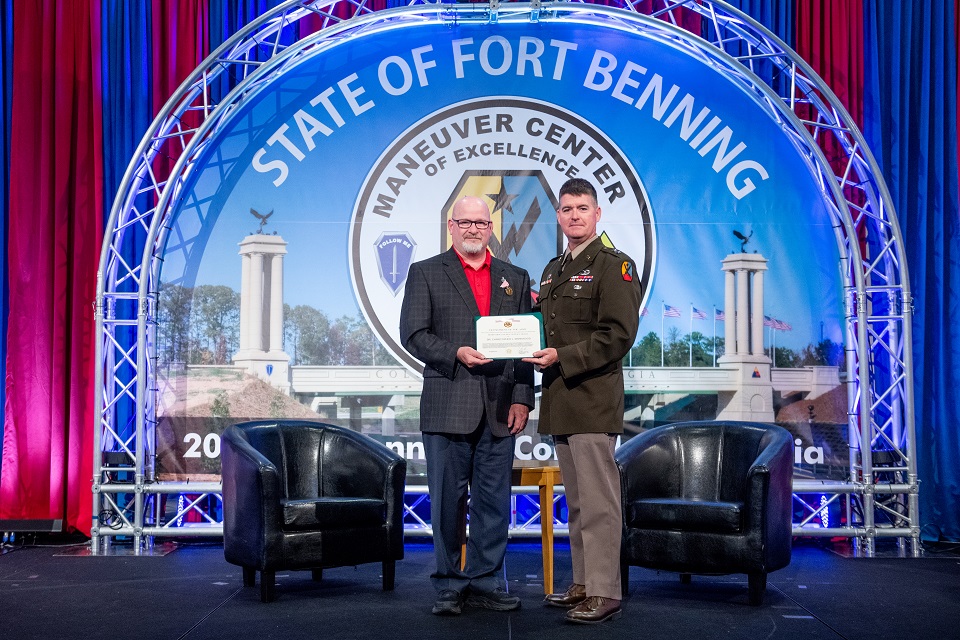 The impact of the decades-long partnership between Columbus State University and Fort Benning was recently highlighted at the State of Fort Benning program. The Greater Columbus Chamber of Commerce presented the community event on Friday, June 25.
As part of the program, CSU President Dr. Chris Markwood received the U.S. Army's Meritorious Public Service Medal for his outstanding vision and leadership as president that has sustained the strong relationship with the installation and the city of Columbus.
While presenting Markwood with the award, Maj. Gen. Patrick J. Donahoe, commanding general of the U.S. Army Maneuver Center of Excellence and Fort Benning, said the partnership between the university and the installation is helping educate military leaders.
"We see ourselves as an academic institution. We train and educate the future leaders of our Army, and in many cases, our nation," he said. "We can't do that alone, so our partnership with Columbus State University is critically important to that endeavor."
Markwood noted that around 15% of CSU's student body is in some way related to Fort Benning. This includes students who are active service members or veterans, or a member of their family.
"Every Columbus State University employee is part of fulfilling our commitment to serving the women and men of our armed forces and their families," Markwood said. "Our mission is centered around providing an educational experience that improves the lives of our students, as well as the communities where they live, work and lead. CSU is truly honored to partner with Fort Benning in this noble pursuit."
Fort Benning runs the Maneuver Master's Degree Program through CSU, in which students receive credit from CSU for Maneuver Captains Career courses and supplement that with classes taken at the university to earn a master's degree. In addition, CSU is collaborating with the installation in its new robotics program, which aims to keep robotics jobs in the Chattahoochee Valley, and will help the U.S. Army further explore the opportunities available with aerial and ground robotics.

Formerly the Outstanding Civilian Service Award, the Meritorious Public Service Medal is the third highest honor within the public service awards the Department of the Army can be awarded to a private citizen.