Miracle Riders begin 26-day, cross-country motorcycle trek to benefit pediatric nursing program
May 22, 2023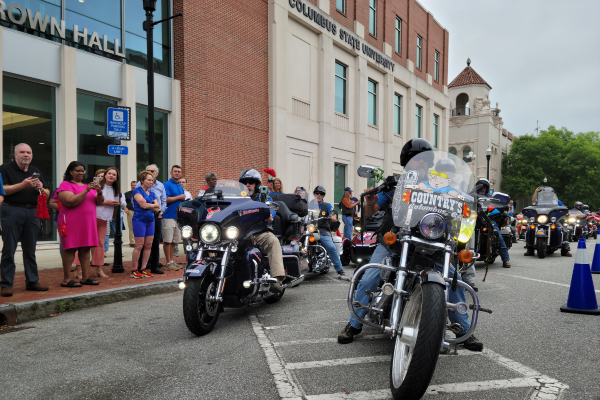 On Monday, May 22, 20 Miracle Riders mounted their motorcycles and departed Columbus State University's Frank D. Brown Hall for a 26-day journey to raise funds and awareness for the university's pediatric nursing program.
Dubbed as "The Four Corners Ride," this year's trek will take the Miracle Riders to the tip of Maine, Washington state, the U.S.-Mexico border in California and the southernmost point in Key West, Florida—for a total of more than 11,100 miles. They will return to a homecoming celebration in Uptown Columbus the evening of Friday, June 16, following a free concert by A1A, the official Jimmy Buffet tribute band.
"Look up 'selflessness,' 'philanthropy' or 'community' [in a dictionary] and you'll find these guys," said Dr. Rocky Kettering, CFRE, Columbus State's vice president for university advancement. "They're riding across America. They're being the best ambassadors—not only for Columbus State, not only for [the city of] Columbus, but for the whole state of Georgia. They make everyone so proud."
This year's ride is the second leg of a multi-year, $1 million commitment the Miracle Riders have made to enhancing the pediatric nursing program in Columbus State's School of Nursing, which is based in its College of Education & Health Professions.
"Our partnership with [the Miracle Riders] has been invaluable to advancing nursing education, and we could not have achieved all that we have without your help," Dr. Margie Yates, interim dean of the College of Education & Health Professions, said at the Miracle Riders' May 22 departure event.
The riders adopted Columbus State's nursing program as their charity of choice beginning with its 2021 ride. The $225,000 raised through that effort funded the school's two new interactive pediatric HAL® simulators and all the technology and components required to provide students with lifelike patient simulations, including movements, facial expressions and real-time interactions.
The School of Nursing and the Miracle Riders dedicated that lab in September 2022 in honor of the late Lyle Cheves Meeks, the son of Ryan and Isa Meeks and grandson of community leaders Cecil and Bettye Cheves.
"Cecil has made a difference in this community for years," Ressmeyer said at the Sept. 29, 2022, dedication. We wanted to express our appreciation for all he has done by honoring Lyle. This is a gift from the Riders to the Cheves family and the community."
This year's goal is to raise approximately $300,000 to provide similar technology and enhancements to the school's Labor and Delivery Simulation Lab, which will provide students with enhanced training to care for women laboring and delivering and their newborns.
"It's an honor to ride for this great institution," Ressmeyer said. "[Our] story has always been about kids—and it continues to be about kids. [These labs] train our future nurses so when they go into a hospital setting, they will understand all that is going on and feel comfortable. They'll be able to say, 'I've done this.'"
Ressmeyer said plans are already in place to dedicate the new birthing simulation lab in honor of Dr. Cecil F. Whitaker Jr., a longtime area obstetrician and gynecologist now retired, in honor of his long-standing service to the Columbus and contributions to ensuring the quality of area healthcare.
The ride began in 2009 when Ressmeyer set out alone on a ride through the 48 contiguous states to celebrate his 50th birthday and raise funds for the Children's Hospital at Midtown Medical Center in Columbus. An additional 29 motorcyclists joined the ride over the next six years, raising $1.2 million for the hospital's pediatric services.
After meeting their initial goal, the riders broadened their fundraising efforts to include other local services for children. In 2015 they established The Miracle Ride Fund in the Community Foundation of the Chattahoochee Valley. They have raised more than $1.1 million for the Miracle Ride Fund and more than a total of $2.3 million since the ride began. The riders pay all their own expenses on their annual cross-country trips. Collectively, they have spent more than $750,000 of their own money to participate in the rides.
Columbus State University's School of Nursing offers undergraduate- and graduate-level nursing programs, including a BSN program; an RN-BSN program with on-campus and online options; an MSN program with tracks for a Nurse Educator, Nurse Informaticist or Nurse Leader, as well as both on-campus and online options; and an FNP (Family Nurse Practitioner) MSN program with on-campus and online options. The School of Nursing has full approval from the Georgia Board of Nursing and is accredited by the Commission on Collegiate Nursing Education (CCNE).
Follow the Miracle Riders' progress on their Facebook page. Visit the Miracle Riders' website for more information about the organization and this year's riders, as well as to donate to their fund.

Media contacts: