Miracle Riders Leave for Cross-Country Charity Ride
September 3, 2021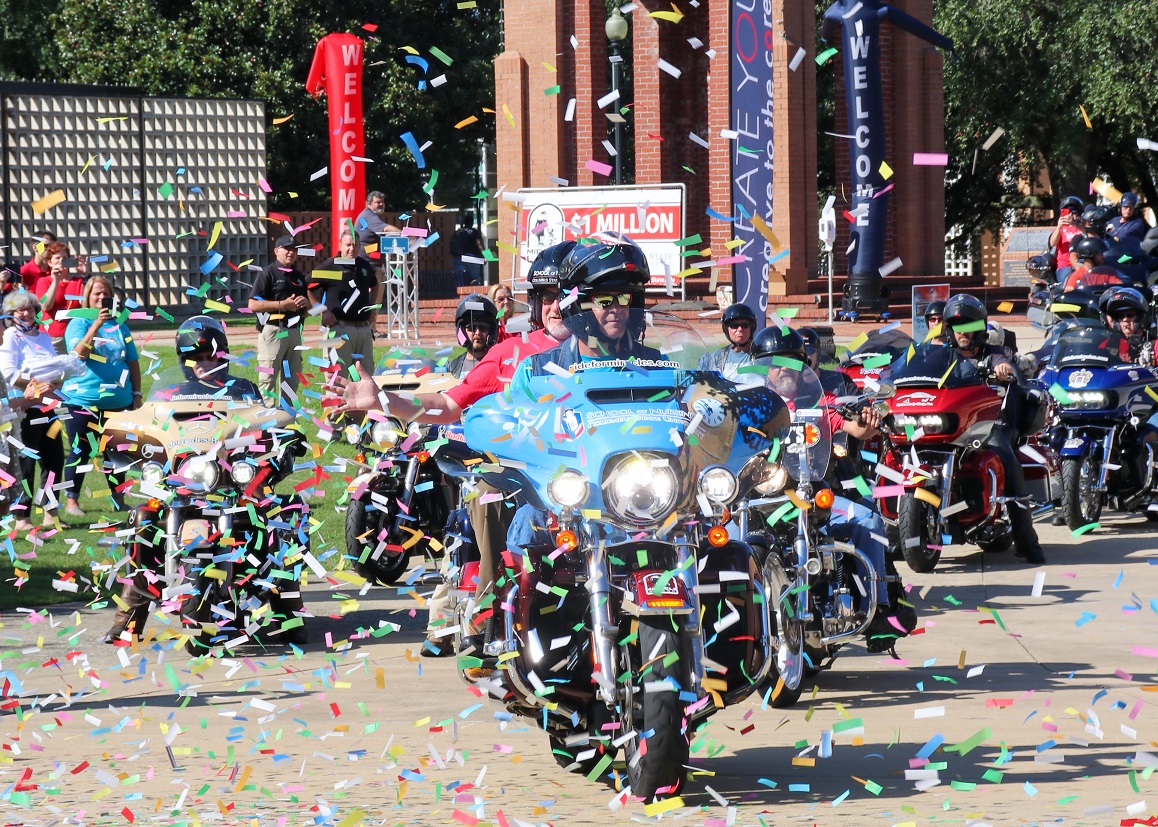 Columbus, Ga. – Scott Ressmeyer and the Miracle Riders left today on a three-week charity motorcycle ride that will take them to all 50 states and back. Their goal is to raise awareness of the School of Nursing at Columbus State University (CSU) and to raise funds for the university's pediatric nursing program.
The 18 riders left this morning from the CSU Main Campus, escorted to Uptown Columbus by the Columbus Police Department motor squad. They plan to stop tonight in Johnson City, Tenn., then hit the road again tomorrow morning. The riders will travel by motorcycle through the 48 contiguous states and by air to Alaska and Hawaii. They will return to a homecoming celebration during the Uptown Columbus concert the evening of Friday, Sept. 24.
The riders have committed to raising $1 million over time to benefit the pediatric nursing program. Funds raised this year will support enhancements to the pediatric simulation lab in the CSU School of Nursing. This includes purchasing three new interactive pediatric HAL® simulators and all components to enable lifelike movements, facial expressions and responses. It also includes renovations to the simulation lab to accommodate the new equipment. All nursing students will gain practical lab experience in diagnostics and treatment using the lifelike simulators, which resemble actual pediatric patients.
Donations may be made at www.cfcv.com/ScottsRide. More information on the ride may be found on Facebook at www.facebook.com/ScottsRideFund/.
About the Miracle Ride
The ride began in 2009 when Scott Ressmeyer set out alone on a ride through the 48 contiguous states to celebrate his 50th birthday and raise funds for the Children's Hospital at Midtown Medical Center in Columbus. An additional 29 motorcyclists joined the ride over the next six years, raising $1.2 million for the hospital's pediatric services. After meeting their initial goal, the riders broadened their fundraising efforts to include other local services for children. In 2015 they established Scott's Ride Fund in the Community Foundation of the Chattahoochee Valley. They have raised more than $840,000 for the fund. The riders pay all their own expenses on their annual cross- country trips. Collectively, they have spent more than $525,000 of their own money to participate in the rides.
About Columbus State University
Columbus State University is a public institution of higher learning located in Columbus, Georgia. Founded as Columbus College in 1958, the University was established and is administered by the Board of Regents of the University System of Georgia, and is accredited by the Southern Association of Colleges and Schools Commission on Colleges to award associate, baccalaureate, masters and educational specialist degrees, as well as doctoral degrees.
###