New peer mentor program provides 'go-to' network for student-veterans transitioning from military to college
November 8, 2022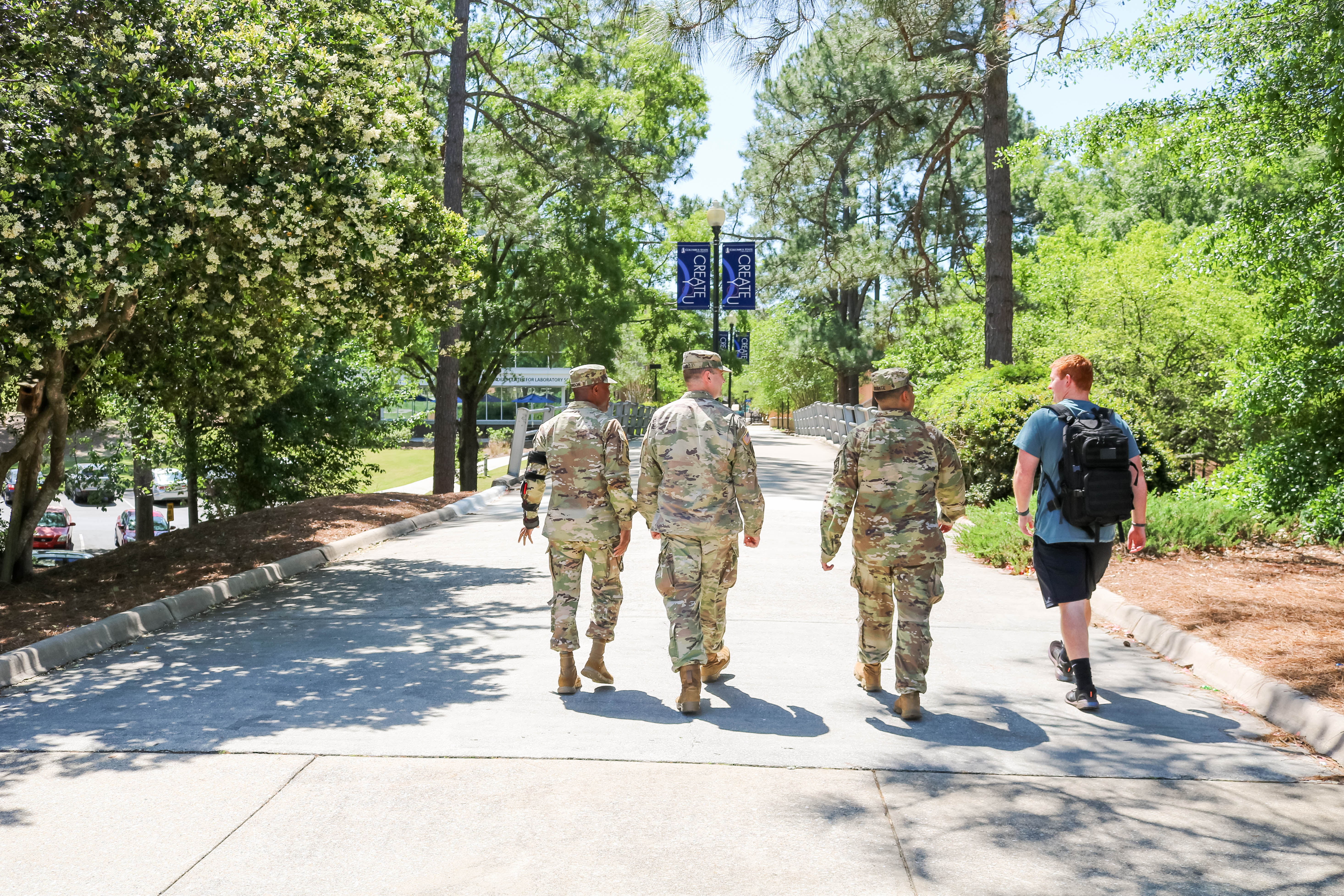 For military veterans like Jacob Bolar, Columbus State University's Veteran Peer Mentor Program has been key in making the "intimidating" transition from serving in the military to studying in the college classroom.
Created in Spring 2022, the program set out to connect student-veterans with one of CSU's current veteran peer mentors. Bolar, a U.S. Air Force veteran and computer science major scheduled to in December 2022, has served as a veteran peer mentor and understands what veterans go through during this transitionary phase of their lives.
"Veterans usually have a very tough time transitioning from the military to the civilian-student world because it can be intimidating," he said. "They go from a life of being told what to do every minute of the day, having to adhere to strict standards, and being ready for anything 24/7, to being completely on their own and with no structured guidance."
Bolar graduated from Harris County High School in 2014 and enrolled at CSU that fall. After a year of classes, he decided to enlist in the Air Force. He eventually ended up in Oklahoma, where he underwent Advanced Individual Training and served as a 35 November. After nearly three years at Fort Meade in Maryland working in the National Security Agency, he decided to return to Columbus and picked up his studies at CSU in January 2020.
Now, two years after resuming his studies, and in his new role as a veteran peer mentor, Bolar emphasized the benefits of a program that provides student-veterans with a network on which to lean. Along with his 40 other peer mentors, Bolar is a "go-to" person for the veterans if they have any questions, concerns, or comments related to class, campus life, or anything outside of academics.
"The guidance I provide to my fellow student-veterans extends from finding out where a class is to how to sign up for counseling or tutoring services—and everything in between," Bolar said.
The peer mentor group has a special relationship with the CSU Counseling Center, whereby an active-duty service member who specializes in counseling veterans is specifically available to support former soldiers with PTSD. Any student-veteran can sign up for an appointment.
Bolar stays in constant contact with the student-veteran mentees in his network, sending them emails each week on resources they can utilize on or off campus that could benefit a need they might have. He also provides various in-person and phone call check-ins to make sure they are doing well with managing their classes. Some of his recent guidance has included how to apply or raise disability with the Disabled American Veterans (DAV) in Columbus, or how to apply for tutoring sessions at the Simon Schwob Memorial Library before midterms and finals.
Susan Lovell, director of CSU's Office of Military Enrollment and Adult Learners, believes that peer mentors significantly impact first-time student-veterans overall success.
"We hope that our first-time students all have a great experience in their first semester and that they want to continue their enrollment," explained Lovell. "Currently about 66% of our first-time student-veterans will enroll for a second term, and we really want to see that number increase."
She also indicated that programs like this provide the structure student-veterans say they noticeably lack after their transfer to college life compared to their previous military environment. That, along with increased student-veteran retention rates, underscores the overall satisfaction student-veterans and their dependents experience at CSU and contributes to the university's various military-friendly campus ratings by several external ranking organizations.
The educational needs of military personnel, veterans, and adult learners can be quite different than those of traditional students. CSU offers a suite of resources designed exclusively for adult students and military personnel. For more information about the resources CSU provides, visit https://www.columbusstate.edu/military-and-adult-learners/.