New 'Spirit of the Chattahoochee' Riverwalk mural has Columbus State ties
September 14, 2023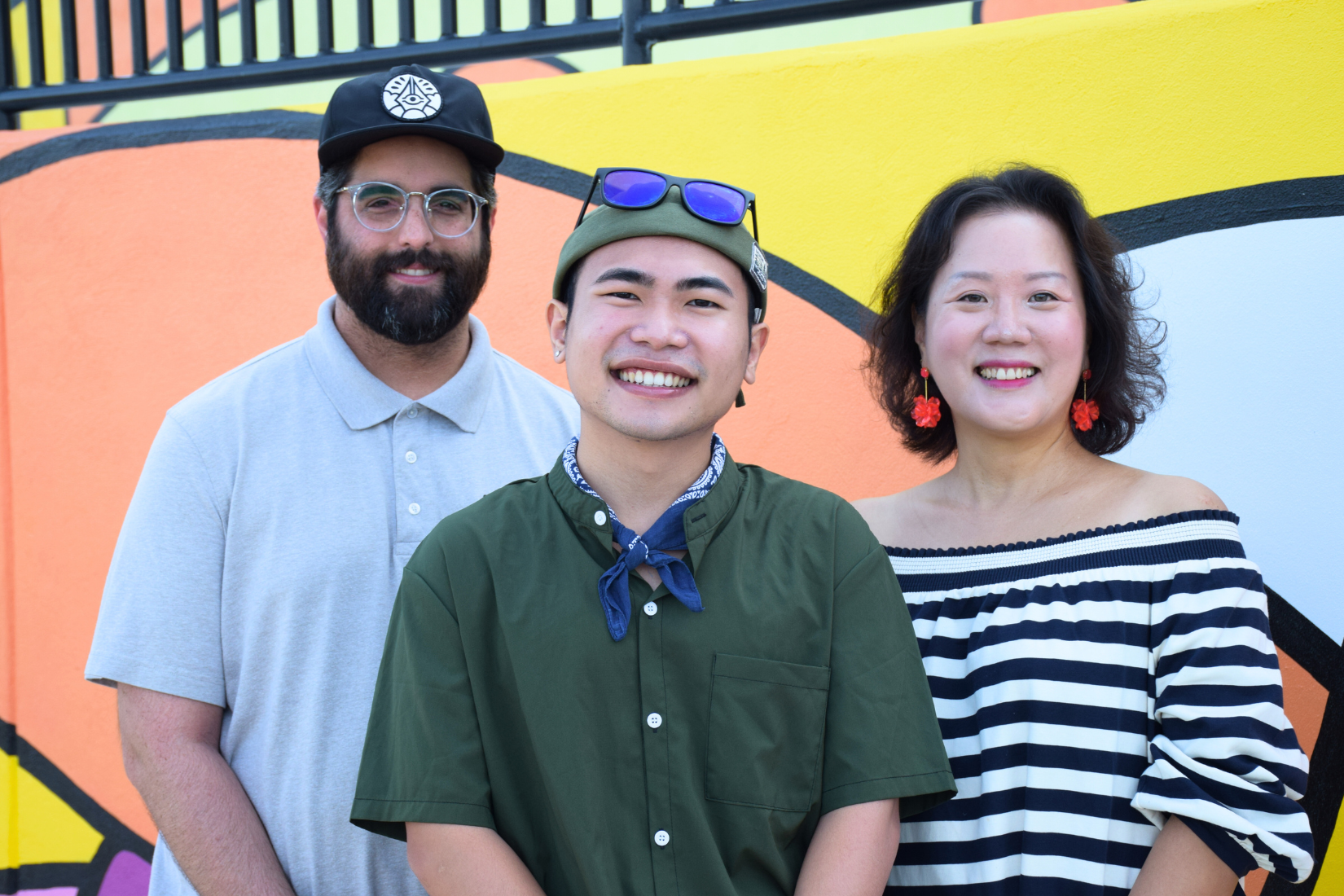 Spanning 350 feet of the Chattahoochee River and the Riverwalk, the new "The Spirit of the Chattahoochee" mural features the artistic talents of several Columbus State University-affiliated artists: senior art student Vinh Huynh, assistant professor of art Samantha Yoo and former employee Joseph Melancon.
Both the newest and largest mural in Columbus, "The Spirit of the Chattahoochee" is a 6,000-square-foot privately funded art project stretching across the riverbank's three-tiered retaining wall below the Synovus Centre and near Woodruff Park. Staring at it long enough, admirers will begin to see local species that call the river home, including turtles, dragonflies, blue herons, bass fish and shoal lilies. They'll also recognize local historic elements from the city's past, including a riverboat, fountain and mill smokestack that, collectively, Huynh felt creates a sense of community connectivity.
"I think public art like this mural, besides beautifying the city, helps spread great vibes," the senior visual art major and Vietnam native said. "I think it is also important to promote wellness within the community. During the pandemic, people were isolated, distant and disconnected. I hope public art like this mural provides a unique hangout place for people to gather and reconnect with each other."
"This mural showcases the ability of public art to bring people together and create a vibrant artistic environment," agreed Yoo, who in addition to teaching is an award-winning artist and former corporate designer. "Public art is accessible to all and has the potential to promote a sense of belonging and community spirit, while also highlighting the diverse population of a particular area and strengthening the bonds between its residents."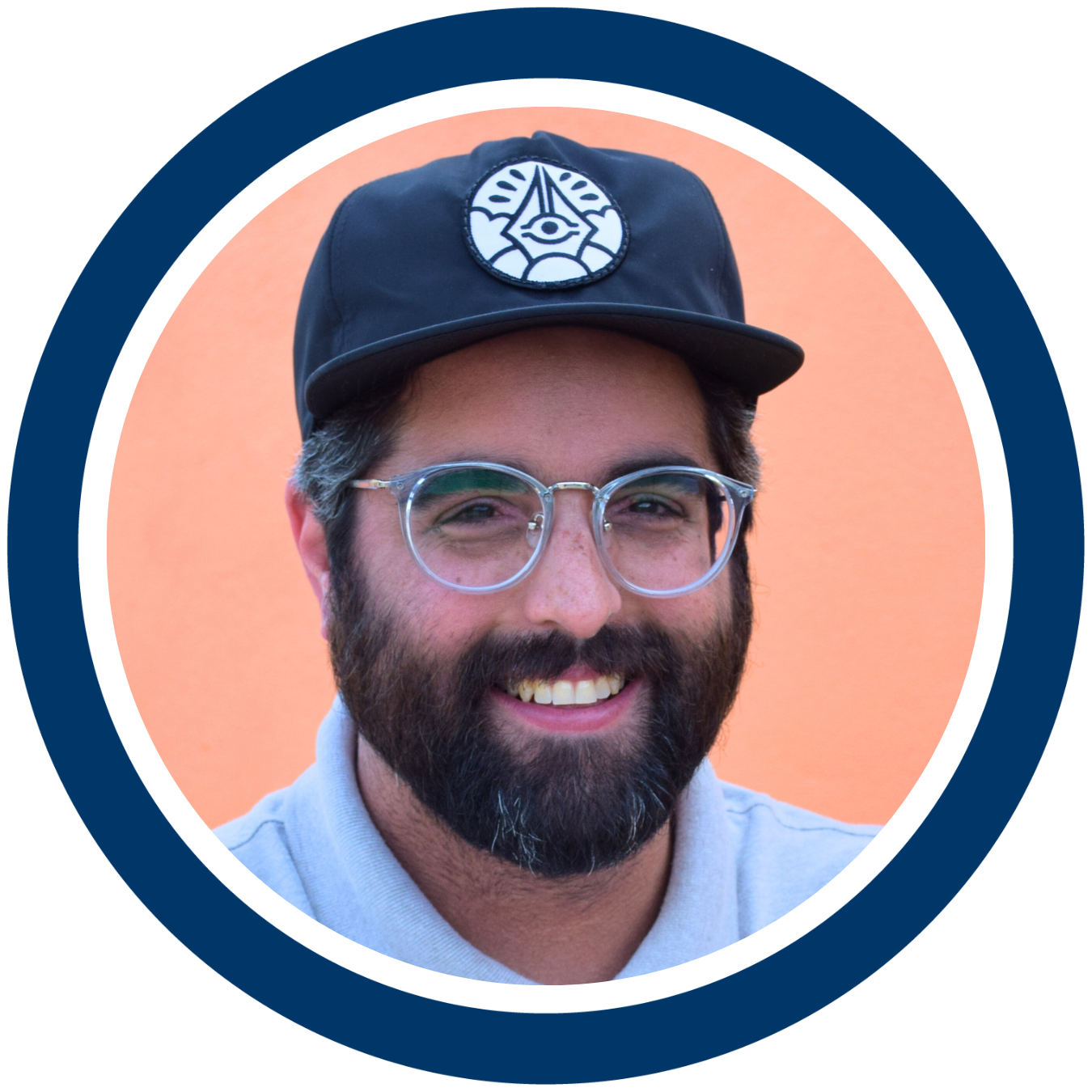 Melancon (pictured), who served as the university's graphic designer in its Office of Strategic Communication + Marketing for eight years, views public art projects like this as essential to fostering and advancing a community's identity.
"Art can transform a space and can provide joy, entertainment, storytelling, reflection, and all manner of reactions from the public," said Melancon, now a freelance artist and designer operating under the name Lost Rest. "There is also an opportunity for the art to represent the community itself, where the space influences the artwork and acts as a sort of collaboration. In these cases, the public art can foster real pride and strengthen communal identity."
Assembling the team
For Becca Zajac, executive director of the Dragonfly Trails Network, the mural project's goal also included showcasing local artistic talent while putting it on grand display for residents and visitors alike.
"The goal with this project was to create opportunities for artists who choose to live, work and/or raise a family in Columbus to showcase their work on a larger scale, collaborate to produce an iconic mural for our community, fairly compensate artists for their work, and grow our skill sets and networks," she told the Ledger-Enquirer.
Zajac tasked Mike Jones with assembling a team of local artists to develop the mural's concept. In addition to being the senior brand designer at Heyo and co-founder of the Creative South Conference, Jones is also the father of Columbus State nursing alumna. His six-person creative team would eventually include Huynh, Yoo and Melancon, who collaborated with other local artists — each of whom brought their own insights and talents to bear.
"As a group, we effectively brainstormed and collaborated," Yoo said. "Initially, my idea was to create a unified color palette that accurately depicts the four seasons of Columbus. Ultimately, we decided to use a four-season color scheme."
"I finalized coloring the design from the color palette provided by Professor Yoo," Huynh, the youngest of the six-person mural team, said of partnering with one of his major professors. "Then, all of the artists joined in on painting process, which was very fun."
Harnessing educational opportunities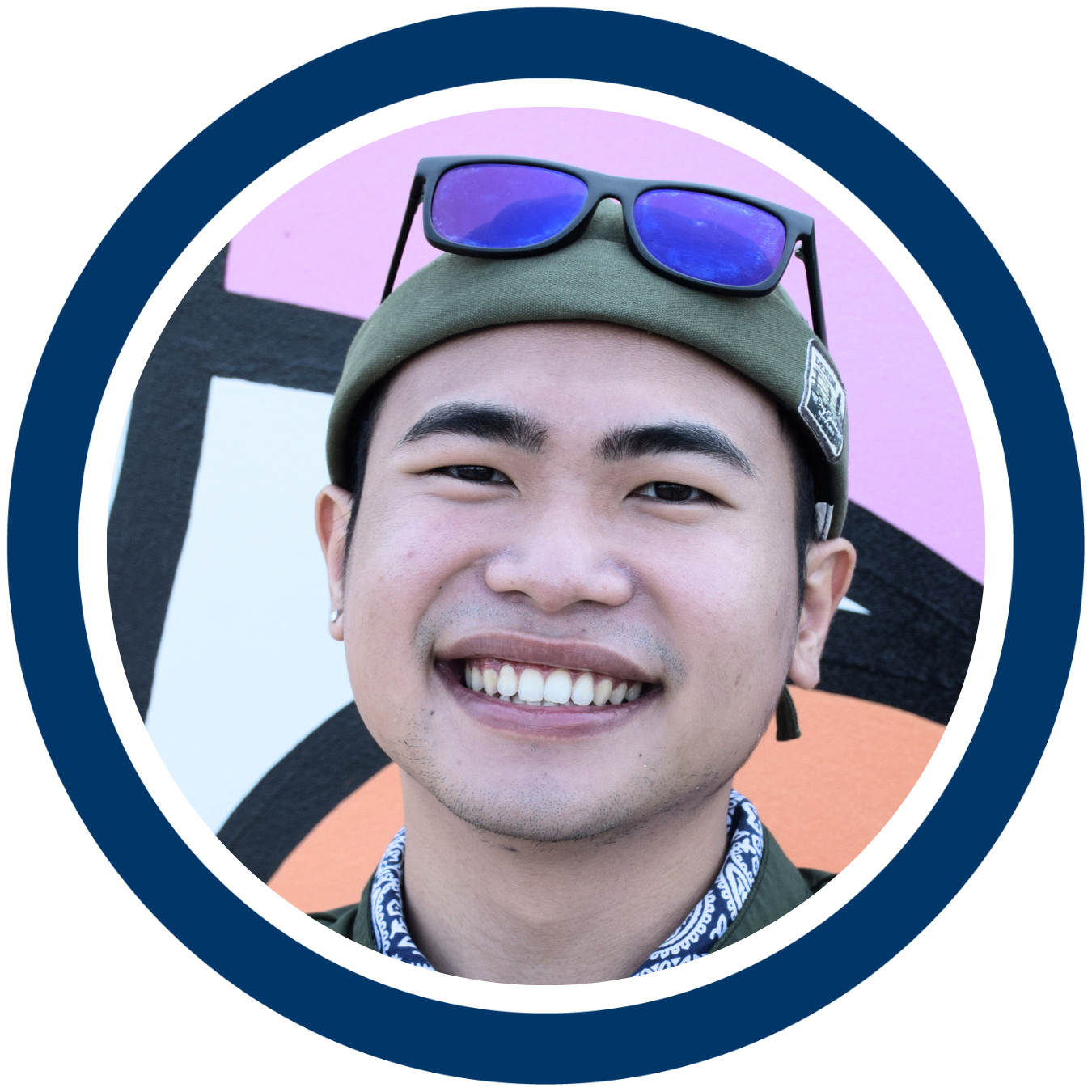 As a student nearing the end of his college studies, Huynh (pictured) valued the experience of working alongside creative professionals on a project of this magnitude.
"This was the biggest collaboration and project that I have ever done. Therefore, at first, I was nervous, and I was probably the least experienced in the field," Huynh said about initially approaching his work with the team. "However, the team was very supportive, and the other artists taught me more about professionalism and how to teamwork. Everyone in the team was communicative and open-minded in receiving feedback and ideas. Therefore, it was easy to put together into a shared vision."
"The Spirit of the Chattahoochee" mural project was not Huynh's first collaboration with the Dragonfly Trails Network — but it is his largest. He previously designed the 11th Street Underpass mural, also commissioned by the nonprofit organization and unveiled July 2022. With a project of this scale now part of his portfolio, Huynh — who is the media editor and a photographer for Columbus State's "The Uproar" student-led online new source — equally values the experience that came with it.
"This project strengthens my portfolio for sure," he said. "Also, experience like this as part of a professional team helps me learn how to better collaborate through future projects and in my career. It certainly has helped expand my network and professional experience."
Yoo explained to The Columbusite that the mural is an excellent teachable moment for her students on the role of art in creating social awareness within a community.
"As an educator, I aim to inspire my students to prioritize art and graphic design concepts that advocate for social responsibility. I encourage them to broaden their perspectives beyond their national and cultural backgrounds, and design works that cater to diverse audiences of the present-day," said Yoo (pictured), who herself is of Korean descent. "By undertaking such projects, my students are able to raise awareness and provide social commentary on various issues such as culture, race, poverty and crime. It is my sincere hope that through working with the Columbus community, my students will acquire these valuable skills."
From concept to reality
Painting began July 5, with the crew working nightly by the light of the Riverwalk's lamps from 7:30 p.m. to often past midnight. That allowed them to avoid the hottest parts of the day and to maintain their academic and professional commitments.
"My favorite part about working on this project was the painting process in the evenings," Huynh said. "We were painting during the sunsets and nights — it was such a mood. What meant so much to us as artists were the encouragement, appreciation and praises from others when they passed by [and saw what we were doing]."
The work spanning nearly six weeks, Melancon explained, was at times laborious and logistically challenging as factors such as size, weather, and even literally watching paint dry made for a long process.
"The size of the mural is very substantial and called for a lot of considerations such as supplies and time commitment," he recalled. "I'm grateful for the wisdom and leadership of Chris Johnson [the local professional muralist who led the mural installation] on this project — he was very open about the process and really helped to demystify this type of work."
It was the Dragonfly Trails Network that commissioned the project, as the 14-mile Riverwalk is part of the nonprofit Dragonfly's 33-mile network of multi-use greenway rails promoting outdoor recreation, transportation and connectivity.
The mural was made possible through The Chuck Hart Foundation Fund at the Community Foundation of the Chattahoochee Valley. The endowed fund, established in 2020 by Hart's family, make grants to organizations in Columbus that, among other purposes, maintain and improve the Chattahoochee Riverwalk.
"This project is one that all of us at the Community Foundation are very excited about," Betsy Covington, the foundation's president and CEO, told the Ledger-Enquirer. "… We are thrilled they are using local artists, and it's going to provide a real cheerful and bright place for people to hang out and be proud of their community — and the view (across the Chattahoochee River) from Phenix City is going to be pretty great too."
The canvas for "The Spirit of the Chattahoochee" mural (pictured) is a $3.3 million alternative retaining wall installed last year by the Columbus Consolidated Government to provide erosion control along the riverbank. That sparked the Dragonfly Trails Network to think of a creative way to beautify this expanse of concrete, using it as a canvas for a mural. Understanding the Riverwalk is subject to extensive sun and sometimes floods from a deluge of rain, the design team selected paint and sealant to withstand such conditions, as well as to make the space graffiti-resistant.
The Columbus State-affiliated mural team is pleased with the result.
"Now that our work is done, it's a wondrous and almost surreal feeling to witness," Melancon said. "This is my first mural project, so seeing my work at such a large scale and being able to connect my art to the community in such a direct way is nearly indescribable. What an amazing way to help pay tribute to my chosen home."
Home is a welcomed concept for Huynh as well. Being an international student and immigrant who has called Columbus home for six years, he views the mural project as providing him with roots to the Chattahoochee Valley.
"I struggled to fit in the beginning," he explained to The Columbusite. "Being able to contribute to beautify my community and leaving a permanent mark on this public wall — it makes me feel welcomed and feel like I am home."
Connect and follow Huynh on Instagram at @mr.vinh.art, Yoo on Instagram at @samathayoodesign and through her website samanthayoo.com, and Melancon on Instagram at @lostrest and through his website lostrest.com.
Media contacts:
Michael Tullier, APR, Executive Director of Strategic Communication + Marketing, Columbus State University, 706.507.8729, mtullier@columbusstate.edu
Becca Zajac, Executive Director, Dragonfly Trails Network, becca@dragonflytrails.org