Pasaquan awarded $340,000 grant from the Ruth Foundation for the Arts
November 17, 2022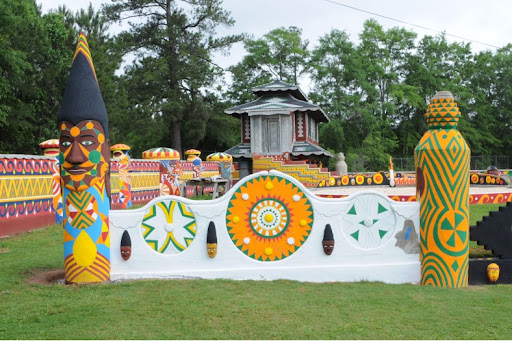 The Ruth Foundation for the Arts has announced a grant to Columbus State University's Pasaquan in its Thought Leader Category in the amount of $340,000 to uplift organizations undertaking ambitious initiatives with long-term impact in the artistic and academic areas.
Located in Buena Vista, Georgia, Pasaquan, an immersive, multiculturally inspired and internationally recognized visionary artist environment, was created by Eddie Owens Martin, a self-taught artist who drew inspiration from many colorful cultures. St. EOM, as he referred to himself, worked on the art environment for 30 years, creating six major structures, mandala murals and more than 900 feet of elaborately painted masonry walls.
During 2014, philanthropic organization Kohler Foundation Inc., Pasaquan Preservation Society and Columbus State partnered to bring the visionary art site back to life. Today, the PPS and the university continue their collaboration to operate and preserve the artistic site.
"Ruth Arts understands and values our goals and mission at Pasaquan. They recognize the innovative, creative work we have been doing. It is an honor for us to be considered as one of 14 "thought leaders" in the field," said Mike McFalls, who in addition to serving as director of Pasaquan is also a professor in CSU's Department of Art. "Through this substantial, sustained level of support, we will continue the preservation initiatives we have already started and develop new cross-disciplinary programming inspired by St. EOM's Pasaquan."
Supported by a generous bequest from the late Ruth DeYoung Kohler II, an integral aspect of the Thought Leader program is its emphasis on generosity and thought leadership—that the participating organizations commit to public knowledge sharing throughout their term.
Each organization awarded the Thought Leader grant is slated to receive approximately $300,000 within the next three years. Through this substantial, sustained level of support, these multi-year
"These programs are at once forward-facing and anchored in Ruth DeYoung Kohler II's inimitable legacy," said Karen Patterson, executive director of the Ruth Foundation for the Arts. "We're proud to honor Ruth's lifelong commitment to the arts by continuing to fund the organizations she personally supported, and to develop new programs in her spirit of experimentation and community-building."
Pasaquan is one of CSU's educational outreach centers, which also includes the Coca-Cola Space Science Center and Oxbow Meadows Environmental Learning Center. Visit Pasaquan's website to learn more and to schedule a visit.