Portrait by CSU Grad Honors Late MCSD Superintendent
June 7, 2021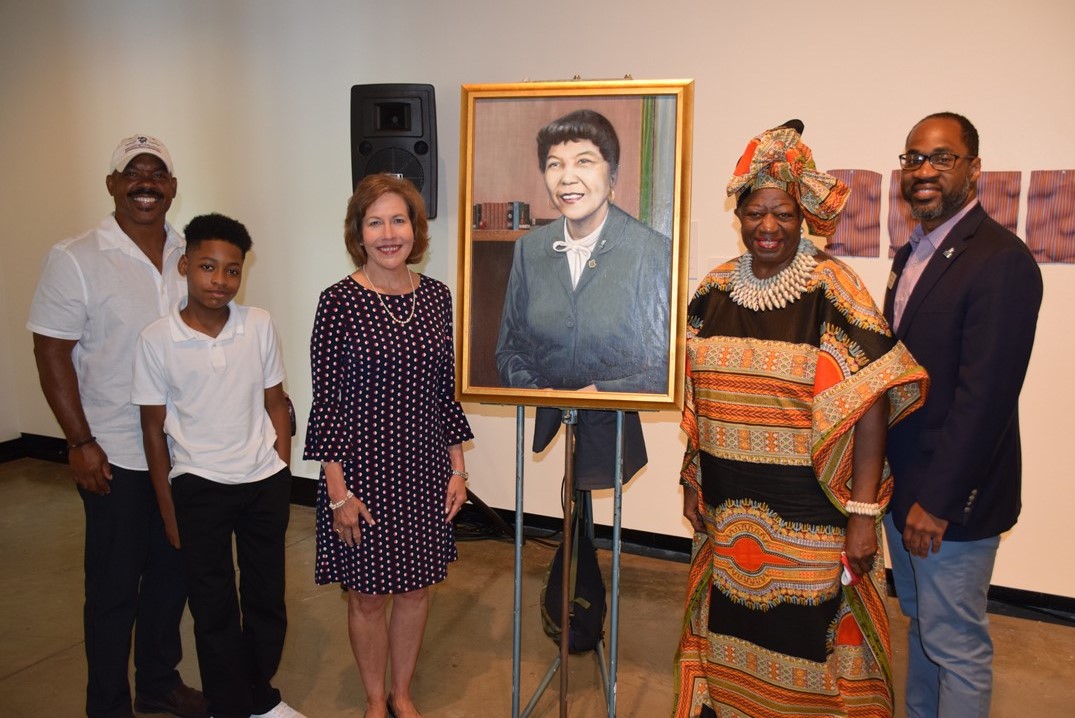 Columbus State University's Department of Art recently unveiled a portrait of the late Mrs. Mary Lee Hall Bussey, who served as superintendent of segregated schools in Muscogee County in the 1950s and 1960s. Through efforts spearheaded by former CSU professor Dr. Judy Purnell, the Muscogee County School District posthumously bestowed on Bussey the title of superintendent in February 2021 and commissioned the portrait to hang alongside other superintendents in the Muscogee County Public Education Center.
CSU alumnus Steve Tette unveiled the portrait on Friday, June 4 at the Corn Center for Visual Arts' Illges Gallery. Bussey's family and representatives from both CSU and the Muscogee County School District were on hand. While summarizing his creative process, Tette, an African American realist painter, explained that he worked on the portrait in a studio at the Corn Center and that the final portrait is the result of ongoing feedback from family, as well as multiple layers of oil paint to achieve the most realistic look.
"CSU is proud to be a part of this civic engagement and to be able to honor Mrs. Bussey in this way," Hannah Israel, professor of art and gallery director at CSU said.
Bussey was a Georgia native who came to Columbus in 1950 as a Jeanes Supervisor. The program was named for Philadelphia philanthropist Anna Jeanes who donated to create a fund to hire Black educators as supervisors of African-American schools during segregation. Bussey worked to improve buildings and grounds, organize clubs to develop African-American communities, and sought to enrich local cultural and social life in Muscogee County's segregated schools until integration began in 1968.
"We have to applaud the giants who opened the doors for us in education here in Columbus," Purnell said. "It's not often we get a chance to honor such an amazing educator."
Bussey was 97 when she died March 19, 2002. The portrait will be on display in the public education center for viewing.