Study reveals Columbus State's latest economic impact exceeds $272 million
July 19, 2021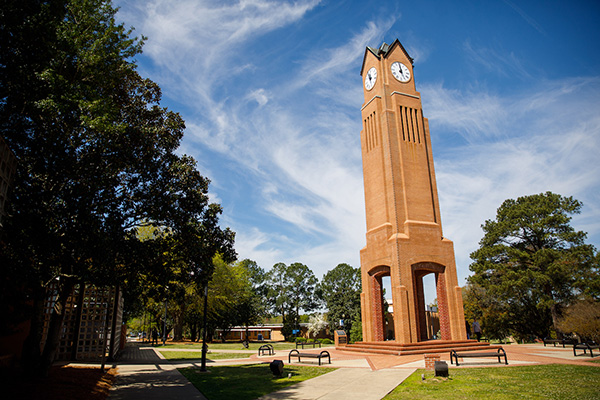 A recent economic impact study commissioned by the University System of Georgia and released in July estimates Columbus State University's regional economic impact as $272.7 million for fiscal year 2020.
The annual economic impact study revealed every dollar spent by Columbus State University generates an additional 21 cents for the regional economy — remaining consistent with FY19 findings.
"With strong support from the state and significant planning from our campuses, USG's economic impact on local communities across Georgia held steady despite a challenging year," Acting Chancellor Teresa MacCartney said. "At the same time, a degree from a USG institution continues to add real value to the lives of our graduates and their families. We remain focused on doing everything in our power to help more Georgians complete college and ensure our state has a well-prepared, highly skilled workforce to grow Georgia's economy."
CSU's regional impact is part of the USG's collective statewide impact of $18.6 billion. Every dollar spent directly by USG institutions and their students generated an additional 47 cents for the surrounding region's economy. While $12.7 billion of the $18.6 billion was a result of that direct spending, the remaining $5.9 billion was additional spending within local communities sparked by the presence of a USG institution.
With an uptick in direct spending for FY20, the report found, "In sum, USG institutions were a vital source of economic stability."
In terms of jobs generated, 34 percent were on-campus positions (52,904 full-time equivalent University System employees), while 66 percent (102,106 jobs) were off-campus in either the private or public sectors. Of those, Columbus State generated 2,823 jobs — 33% of which were on campus, while the remaining 67% were community-based. On average, each on-campus CSU job led to the creation of two additional off-campus jobs as a result of spending by the institution.
"As the Chattahoochee Valley thrives and grows, so does Columbus State University — and vice versa," said CSU President Chris Markwood. "Our ecosystems are inextricably intertwined, and as a result, CSU takes its role as an educational, economic and workforce development leader in our community seriously.
"As the state budget constricted during FY20, universities like Columbus State operated more nimbly and creatively," Markwood continued. "That certainly is reflected in CSU's economic and jobs impact during a year marked by the significant fiscal and operational challenges presented by the COVID-19 pandemic."
The annual study is conducted on behalf of the USG Board of Regents by Dr. Jeffrey M. Humphreys, director of the Selig Center for Economic Growth in the University of Georgia's Terry College of Business.
This year, Humphreys and Alexandra P. Hill of the Selig Center also conducted a companion study titled "Lifetime Earnings for University System of Georgia Class of 2020." The center's research shows work-life earnings increase substantially with each step up in earned degree.
The earnings study finds that Columbus State University's Class of 2020 graduates are predicted to earn on average $820,594 more over the course of their careers as a result of their CSU degree. Those who will work in Georgia can expect lifetime earnings of $4.8 million — of which $1.5 million can be directly attributed to their degrees.
Both studies are available from the USG website.