U.S. House Passes National Legislation to Implement Behavioral Intervention Guidelines, Inspired by CSU Program
May 19, 2021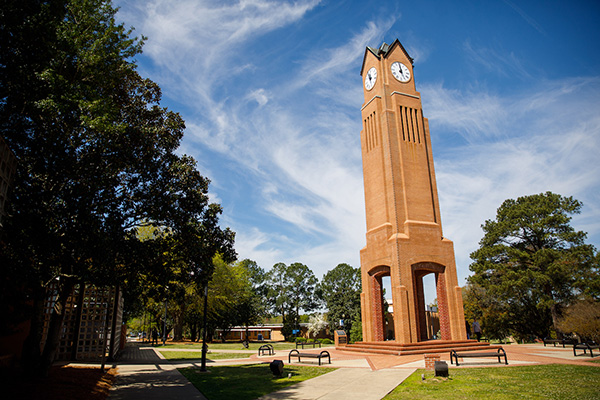 After the 2007 Virginia Tech massacre, higher education leaders knew the mental health needs of students, as well as faculty and staff, needed to be more effectively addressed.
Columbus State University is a leader in higher education behavioral intervention. Since 2008, CSU's intervention team has worked with various departments across campus to help struggling campus members back to a successful path.
Now, using CSU and National Association for Behavioral Intervention and Threat Assessment guidance, the proposed Behavioral Intervention Guidelines (BIG) Act would create best practices for K-12 and higher education institutions in the mental health sphere. The bipartisan bill will support schools as they collect and assess data to better de-escalate situations involving individuals of concern. Earlier this month, the bill passed in the U.S. House.
Dr. Chip Reese, on leave from his role at CSU's associate vice president for student affairs, currently serves with the University System of Georgia as the assistant director of the mental health initiative. He first worked to create a Behavioral Intervention System for the university when he began at CSU in 2008.
"We're talking about human beings. At Columbus State from day one, our behavioral intervention team has been about more than just students. It's about campus community members who may be struggling in some way," Reese said. "This team gives them an opportunity to reach out and 'softly catch' the individual who may be struggling while connecting them with resources to get them back on track to overcome whatever is going on."
The Create Care Team at CSU is dedicated to a proactive, coordinated and planned approach to identify, prevent, assess, manage, and reduce interpersonal and behavioral threats to the safety and well being of the CSU community. Additionally, Columbus State is frequently consulted by other institutions looking to implement a behavioral intervention team for their campuses.
"Columbus State University wholeheartedly supports the Behavioral Intervention Guidelines Act as a means of ensuring we place as much focus on a college student's mental health as we do on educating them and preparing them for their chosen careers," said Chris Markwood, president of CSU. "Mental health difficulties can affect many areas of their lives. If not addressed during their formative college years, those challenges could exacerbate well into their adult years. Left unaddressed, these difficulties will only compound, jeopardize their livelihoods, and threaten the fabric of the American family."
Georgia's District 3 representative, Rep. Drew Ferguson, whose district covers the northwestern part of Muscogee County, said the Behavioral Intervention Guidelines (BIG) Act is important to "provide students with the opportunity to thrive in a secure environment while ensuring sure those students approaching a crisis point get the resources they need to lead healthy, productive lives." Ferguson also said that the ongoing coronavirus pandemic has profoundly impacted the mental well-being of Americans.
The bill is sponsored by U.S. Congressmen Drew Ferguson (R-Ga.), Michael C. Burgess, M.D. (R-Texas), Scott Peters (D-Calif), Jimmy Panetta (D-Calif), and U.S. Senators John Cornyn (R-Texas) and Angus King (I-ME).