Columbus State ranked 8th nationally as military-friendly school for its size
March 26, 2023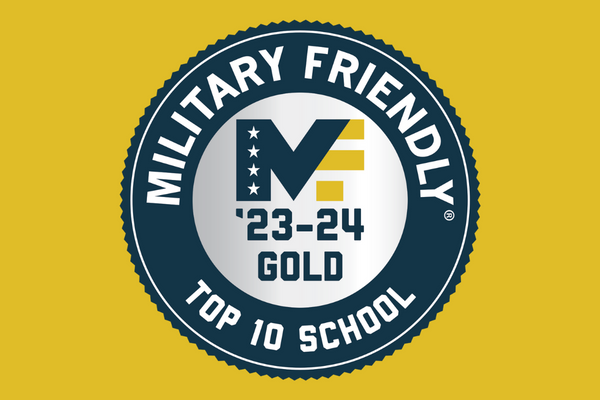 The newest MilitaryFriendly.com rankings find Columbus State University ranked 8th nationally in its 2023-24 "Small Public Schools" category. The ranking places it as the top-ranked military-friendly school in that category in Georgia. It is the highest ranking the university has reached in its decade-long run in MilitaryFriendly.com's annual rankings.
The Military Friendly® Schools survey is the longest-running, most comprehensive review of colleges' and universities' investments in serving active-duty, veteran and military-affiliated students. According to MilitaryFriendly.com, Military Friendly® Schools strive toward and succeed in the areas that matter most in helping veterans make the transition from the military to school and, ultimately, satisfying careers in the civilian world.
"Because there is such a large veteran community in Columbus, many of my classmates and instructors either come from a military family or are veterans themselves," said Jacob McCallister, a senior from Newnan, Georgia, and ROTC cadet studying nursing. "In fact, one of CSU's graduate-level instructors was a former officer in the Army Nurse Corps and took time out of her day to meet with me and tell me all about nursing in the Army—and I wasn't even one of her students."
Educational service to retired and active-duty service members and their families is coordinated by the Office of Military Enrollment, which serves more than 1,300 active-duty soldiers, military retirees, veterans, and their spouses and dependents–17.5% of Columbus State's current student body.
"This ongoing recognition as a military-friendly school echoes not only our commitment to active-duty and veteran students, but to their families as well," said Susan Lovell, CSU's director of military enrollment and adult learners. "We at Columbus State strive to serve them–just as they have served us and our nation–through focused admissions and a variety of programs providing them a personalized academic experience."
Improving soldiers' educational opportunities has been a personal mission for Bill Huff, a Columbus native, former Marine captain and Vietnam veteran. Huff co-chairs Columbus State's Military Affiliated Student Advisory Committee (MASAC) along with Pete Jones—a retired brigadier general, president and COO of the National Infantry Museum Foundation. MASAC's all-volunteer committee works lockstep with the university's team of military-affiliated admissions and academic advisers.
"MASAC's job is to support our military-affiliated students, find out what their needs are and help them transition from their military service to the classroom and student activities—then to transition again to well-meaning jobs," Huff explained. "Simply put, it's supporting military students from boots to books to jobs and the boardroom."
"We [members of MASAC] are here to help ensure CSU military-affiliated students have the educational environment they deserve," MASAC co-chair Jones further explained. "It's one thing to say you're military-friendly. It's another to put programs in place that demonstrate that friendliness to military-friendly students—active-duty or retired soldiers, veterans, and military spouses or dependents alike."
Both agreed that MASAC's volunteer team of CSU faculty advisors, its dean of students, and the cadre of other advisors from the community, business and military sectors serve a vital role at the university. This includes the committee's commitment to broadening educational access and financial opportunities for current and retired service people and their families—as well as the perspectives, support and resources they share with Lovell and her team in ensuring a well-rounded experience for the university's military-affiliated students.
Lovell indicated that MASAC's involvement has been vital to the university's holistic service to and programs benefiting military-affiliated students. MASAC and its role at CSU have a become an exemplar for other schools within the University System of Georgia and beyond. Those programs are also vital for military-affiliated students finding academic success at CSU.
"We hope that our first-time students all have a great experience in their first semester and that they want to continue their enrollment," she explained. "Currently about 66% of our first-time student-veterans will enroll for a second term, and we really want to see that number increase."
Advisers and counselors assist military-affiliated students with resources ranging from school-life-career balance, transitioning from military life to civilian learning, transfer credit for previous academic studies and military service, and best utilizing educational and financial benefits and scholarship opportunities stemming from military service.
"Many of our military-affiliated students on campus carry with them military education benefits that, coupled with traditional financial aid resources, offer tremendous opportunities," Lovell said. "With additional scholarships specifically for military-affiliated students, we can help further reduce educational costs for active and retired military members and their families.
One of the most recent additions to Columbus State's portfolio of military-focused scholarships is the Wetzel Military Student Scholarship—established in September 2022 by the Military Order of World Wars. It honors the memory of Lt. Gen. Robert L. Wetzel, who before retiring in 1986, devoted 34 years of service to the U.S. Army in a variety of capacities that included the commanding general of Fort Benning.
Helping military-affiliated students navigate the labyrinth of military benefits and transition from one complex environment like the military to another complex organization like a college or university is, according to Jones, the Office of Military Enrollment's niche.
"Military-affiliated students must address facets like the VA benefits, the transitional and isolated military lifestyle, myriad adult-learning styles, and access to mental health," Jones explained. "Active-duty and retired soldiers are married, married with kids, and therefore they have different financial stressors that are magnified by adding college studies to their plates."
Ultimately, Jones credits the collective efforts of CSU's Office of Military Enrollment—including the guidance, support and programs it provides—as the primary factor in its military-friendly rankings.
"CSU's bedrock strength is having a military office that has expanded to meet the needs of military-affiliated students through scholarships, content knowledge and a student-centered focus," Jones explained. "That office provides a single point of contact to help students navigate the interwoven collegiate and military process."
In addition to this ranking, U.S. News in September 2022 ranked Columbus State as 32nd in its "Best Colleges for Veterans" within the Regional Universities, South category.
Rankings Methodology
The military marketing company Viqtory administers the Military Friendly® rankings program, which evaluates more than 8,000 colleges nationwide. Ratings are based upon a core set of outcome data—namely, degree transfer, advancement, graduation and/or job placement. That publicly available data is supplemented by survey responses from participating colleges in six areas critical in helping veterans thrive on campus—and later in the workplace.
Final Military Friendly® ratings are determined by combining an institution's Military Friendly® Schools survey score with the assessment of the institution's ability to meet minimum thresholds for student retention, graduation, job placement and loan repayment rates for all students and specifically for student veterans based on public data.
The "Small Public Schools" category includes Columbus State University and other public colleges and universities with fewer than 10,000 students. The 2023-24 Military Friendly® Schools list will be published in "G.I. Jobs" magazine's May issue.
For more information about the Military Friendly® Schools program, visit https://www.militaryfriendly.com/faqs/.
Media contact:
Michael Tullier, APR, Executive Director of Strategic Communication + Marketing, 706.507.8729, mtullier@columbusstate.edu
You might also be interested in:
Military-focused degrees, support programs foster military-friendly experience for CSU students (April 3, 2023, Columbus State University News)
Related news coverage:
Army veteran retires and takes on a mission in the classroom (Nov. 8, 2023, WRBL-TV)