Degree decades in the making for Columbus State business grad
December 16, 2021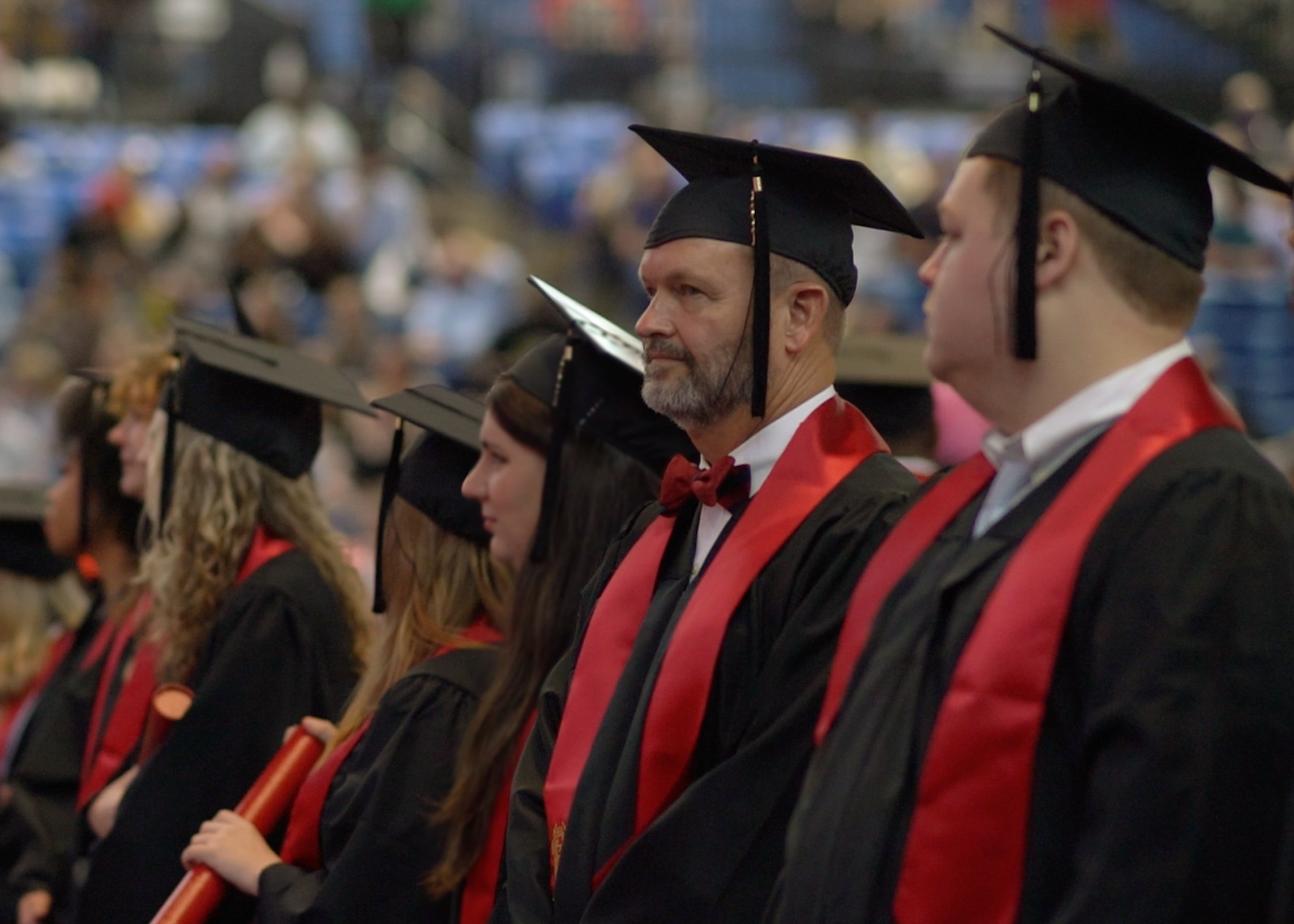 Proving it's never too late to learn, Jim Money, Jr. received his degree on Dec. 11, 2021, from Columbus State University's D. Abbott Turner College of Business, amidst a bustling career in the financial industry. Money was among the university's 900-plus graduates honored during its fall 2021 commencement.
Money, the brother of CSU Foundation Board of Trustees vice chair Tim Money '86, began studying at then-Columbus College in 1978. He was placed on academic exclusion and eventually decided to join the U.S. Air Force, where he went on to serve six years. After beginning a business career with his father in the financial services industry, Money decided to come back to CSU in 2018—40 years after he first enrolled.
"It's never too late to realize your dreams," said Money, who fits the mold of what most in higher education call an "adult learner" or "non-traditional students." "You're going to be three or four years older whether you get your degree or not. When you think about what you'd do in those years, nothing will probably mean as much to you personally or professionally as going back and getting your degree."
Three and a half years after restarting his academic journey, Money graduated with a bachelor's degree in accounting. In the crowd cheering him on during the Dec. 11 commencement ceremonies was his family—including his wife Laurie (CSU '83), brother Tim and 89- and 90-year-old parents, Jim and Ruth.
"I am so blessed that they were able to attend my graduation. I would not be here today had those people not believed in me and encouraged me along the way," Money said. He also wanted to set an example for his five grandchildren who he hopes understand what it means to finish what you've started.
CSU President Chris Markwood noted in his commencement ceremony remarks the unique journey many Columbus State students take.
"Earning your degree took thousands upon thousands of hours attending classes, studying, and immersing yourself in all that your chosen profession will require of you," Markwood said. "Many of you balanced school and a job along the way. Others even balanced those demands with the additional responsibilities of marriage, parenting or caring for a loved one. Fueled by determination, you achieved and received a stellar education."
Money advises others who are looking to earn degrees after beginning their careers to reach out to their employers.
"Employers are more willing than you realize to invest in your education, especially since earning your degree makes you a more valuable resource to them," he said.
Adult learners at Columbus State not only achieve academic success but also attain new skills that will directly translate to the workforce. CSU has a robust military and adult learner program that includes online degree programs with convenient evening and weekend hours, as well as academic support programs to help these working adults acclimate to college life. Learn more at admissions.columbusstate.edu.
---